Spanner and Multi Charger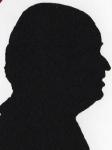 Two very useful gadgets, the first when you need an accurate adjustable spanner. The second when the car's cigar lighter needs to work overtime as you are out and about and need to charge more than a USB device as this is an inverter and also allows you to power 13amp items from the car battery.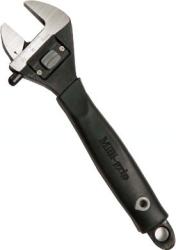 Milli-grip
At first glance you may think this is like most other adjustable spanners, it isn't - this will never slip – in fact it is designed for use by both left and right handed people and perhaps most important can be pre set to any metric nut size up to 32mm.
It is 21cm long between 7 and 8.5cm wide and up to 1.5cm thick. Solidly and precisely made it weights 280grams.
If you check out the link below you can see a demonstration of the Milli-grip. The first unusual feature is that it is double sided look at the small grey indicator towards the base of the handle dependant on which hand you are using it in.
Next towards the top of the handle just under the jaws is the other grey component and pressing this down opens the jaws to their fullest extent. Place it over any metric nut and either flick your wrist or press the end of the arm until you are tight on the nut. It is designed to fit exactly at precise 1mm increments so it never slips. A sideways glance at the spanner will tell you the exact size of the nut – if you did not know – and that's about it.
This one a gold medal at the British Inventors Show, I saw it at this years Ideal Home Show and had a good conversation with the inventor. The secret is two rows of precision ground teeth. The top row are fixed and the bottom row has 12 teeth and a minimum of 10 of these mesh into the top row giving the virtually unbreakable grip.
Extremely easy to adjust and soft to hold as the handle is rubber coated, so finally an adjustable spanner that will never slip.
Available from www.milli-grip.co.uk at £17.95 post free or £17.02 including delivery from Amazon on the following link:
http://www.amazon.co.uk/gp/product/B0021BD7RE?ie=UTF8&tag=gadge0a-21&linkCode=as2&camp=1634
Black&Decker Power Up (BDPC100A)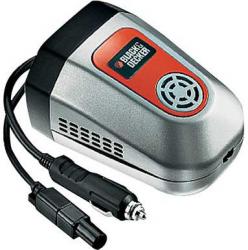 Another device that is more than it first seems. Lots of USB items have USB leads that end in a car cigar lighter socket to give you the option to charge your device on the move. Items such as phones, MP3 players, Digital Cameras and even Notebooks.
However here's the big extra this works not only to reduce voltage to that suitable for the above mentions items but also the other way to power anything (within reason) that has a 13amp plug.
It is 12x8x6cm and weights 280grams. In the tube like packaging is a small 8 page user guide that explains how to etc. There is a 60cm lead that fits in the back of the unit that goes to your car's cigar lighter. The front of the unit has a USB socket as found on your PC and beside this a standard 13amp socket.
This device only works from a 12volt battery so if you have a 24volt one this is not for you. It will supply up to 100 watts and of course you are draining your cars battery if used while the engine is switched off.
This is an innovative device having the ability to act as a 5volt or 230volt supply. Available at a best price of £34.29 from the first link below.
http://www.argos.co.uk/static/Product/partNumber/0382979/Trail/searchtext%3EBLACK+DECKER.htm