Pure One Flow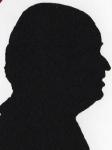 Review controls
This is a DAB, FM and Internet radio; however believe it or not that is just part of what this can do. Pure have their 'Lounge' and with this service now improved and enhanced it enables your radio to do much more.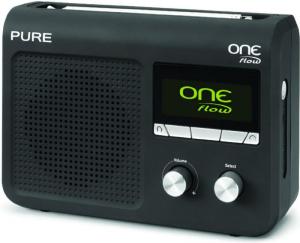 The Pure One Flow DAB radio measures 20.5x14.5x7cm this excludes the 77cm added to the middle figure the height by the eight piece rod aerial. It weights 730grams without batteries.
Mine was black and covered in a sort of rubberised material that might give some protection if it were to be dropped.
The back behind a flip down door is where batteries (or a charge PAK) are inserted it is also where the DC is inserted. The right side has the on/off button, micro USB socket as well as Auxiliary in and headphone out sockets.
The rest of the controls are grouped just below the six line very readable yellow on grey display that is 6.3x2.5cm. A line of five buttons the leftmost is Home taking you to the main menu, the rightmost is back one action. The centre three are soft buttons with the action they will perform shown on line six of the units display. Finally there are two twist knobs the left one is volume and the right one controls the screen display with a press of it making selection.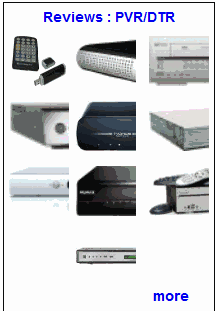 So far very like several other 'Pure One' offerings that offer Digital and FM Radio and the Auxiliary Input. This however is also a Media Player and most importantly uses your Home wireless network to access The Lounge.
You of course have alarms and presets 30 DAB and 10 FM as well as unlimited Internet stations.
The Lounge is Pure Digitals way of allowing you to access the world and almost any radio station that is available over the Internet. However it does not stop there as you can also play various Pure sounds such as Bird Song which are rather good.
Should you hear something on the radio that you like you can press the appropriate soft button marked TAG that can then tell you a range of information about it. Should you wish to purchase it then once you have a (free) Lounge account you can then purchase it, the tracks I tested were mostly 99p but some were 79p. As soon as you confirm your purchase on the radio you can – should you wish – immediately stream it to your Pure One Flow. Next time you log in to your email on your PC you will find a link email to allow you to download the purchased track to your PC, it come in either 320kbps or 256kbps MP3 files which you can then play from your PC or music player. In my tests however this was not so far 100% reliable.
As anyone who has tried Internet Radio in any form you will know that 'thousands' of stations is not a over estimate. Once you have linked your Pure One Flow with your Lounge account you can from your PC make a favourites list, this can be a range of Genre or like me a single one which makes selection a great deal easier on the radio.

All your purchased tracks are also able to stream and play at any time even weeks after purchase and as far as I could tell there is no limit to the number of times you can download them to your PC as a list of your purchased tracks is available on your Lounge account. This is also a place to browse through a lot of possible music purchases on the larger PC screen.
Should you not have a wireless connection I am told that Pure do a USB to Ethernet connector but this will of course mean running an Ethernet lead from your radio to your modem/router. I can heartily recommend their ChargePAK that enables you to run your Pure One Flow untethered meaning it can sit beside the bath without having to run a power lead into the bathroom something that would upset so many health and safety regulations.
The Pure One Flow is available from the first link below for £86.99 which includes free delivery.
http://www.amazon.co.uk/gp/product/B004E9SLOK?ie=UTF8&tag=gadge0a-21&linkCode=as2&camp=1634
http://www.pure.com/products/product.asp?Product=VL-61558&Category