Sharp 46 inch TV (LC-46DHH77E)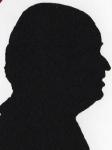 Review controls
This is certainly big; in fact I was not sure I could fit it in my lounge in the normal place. My first surprise was that I could lift it easily enough onto its stand and then onto the unit where it sits.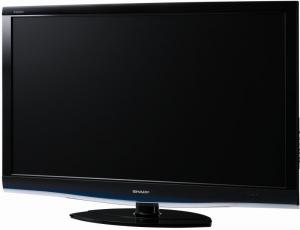 click image to enlarge
The 46" Sharp Aquos LCD television measures 111x67x10cm and assuming you do not select to wall mount it sits on a small oval stand 50x30cm that lifts the unit 10cm. Fitting the stand involves adding a metal bar to the back of the TV and then using a supplied hex key to attach it with four bolts add four bolts to attach this to the stand and the whole thing is solid.
There are a total of eleven input sources although most will have less available. Tuning Analogue and Digital channels are separate operations but still quite quick. Probably ten minutes should do both. First I found the six Analogue channels (five TV and my video recorder) and then stepped back one step and tuned for Digital where it found 60 TV channels (some are encoded) and 22 Radio channels.
The first 44 pages of the Operation Manual are in English and these should cover anything that is not clear. I would advise studying what the 55 key remote control can do as there are a number of sequential toggle options that are not immediately obvious.
While I used it stand mounted (it was very solid) I suspect for a TV of this size you would have it wall mounted and probably also have extra speakers the latter are especially useful for things like a Blu-ray player to get the full cinema effects.
All the external connections are grouped on the right side of the back or on the right edge where you will also find the seven on TV controls. The one exception is where mains power enters and this is towards the bottom on the left side.
Before first switch on insert your aerial and connect the mains lead. Switch on and it should go into a one time setup if not press the menu button and force things from there where you set the on screen display language and the country then proceed to tune. This unit has a feature that will display the channel strength, signal strength and quality.
There are a range of features that are worthy of merit such as one of the best EPG I have ever seen because the screen is so large details for 15 channels can be shown and of course the width allows quite a long viewing period (six hours is the default). Various small icons show the Genre of programs and with practice you can easily find the type you feel like watching.
AQUOS link - is a feature available but not tried – that lets you control a number of external devices like DVD or Blu-ray players using the bottom nine buttons of the remote (these are under a flap so you do not accidentally use them for standard operations.
There are numerous video and audio options apart from the one touch choices for picture setups for things like sport and movies etc. These allow individual settings for Backlight, Brightness, Colour, Contrast, Tint and Sharpness.
There is an ECO mode where you can reduce the backlight other ECO features include Auto Standby if no actions are performed in a pre determined time frame (30 minutes to 3 Hour) and a Sleep Timer. Another nice feature is that the backlight is adjusted according to the amount of light in a room. Rapidly running out of space but I must mention the 4:3 Panorama Mode that allows you to watch older programs in full screen mode without bars or other strange effects such as side to side movements being elongated, the best I've yet to try. So programs made say ten years ago look normal and older movies look great.
Doing my Internet searches originally found the Sharp AQUOS LC-46DH77E at a best price of £837.20 from the first link below however since I wrote this review the price has gone up nearly 50% to £1246.71 so the 3 smileys for value is now only 1.
http://www.amazon.co.uk/gp/product/B001RH0208?ie=UTF8&tag=gadge0a-21&linkCode=as2&camp=1634
Information from Sharp on the following link:
http://www.sharp.co.uk/DH77-100Hz-HD-1080p-Slimline/LC46DH77E-46-inch-100Hz-HD-Ready-1080p-LCD-TV/invt/lc46dh77e