Images and Weather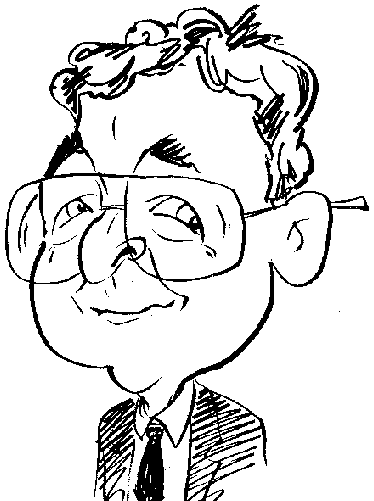 Review controls
Following the recent Polaroid event I was able to check out one of the new products on display. This combined the ability to display digital images and report on the weather.
Buy Now
Polaroid Picture Frame and Weather Station
£69.99 from PC World
including shipping


£69.94 from Amazon
including shipping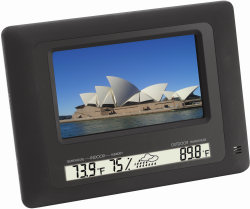 The tasks covered by multi-function devices continue to expand into new areas. A recent example of this can be seen with a new digital photo frame from Polaroid. Not content to displaying favourite photos, this device, with the less than memorable designation of XSU-00770B, brings together a 7-inch digital photo frame combined with current weather information.
Enclosed within an ebony frame, the screen can be switched between 16:9 and 4:3 aspect ratio with a resolution of 480 x 234 pixels. Images can be stored either on a USB flash drive or memory card with support for Secure Digital, MultiMediaCard, Memory Stick Pro and Memory Stick Duo. Both the memory card slot and USB port are located on the right side of the frame positioned just above a permanently attached linking cable than doubles as the power connection and sensor for receiving weather information from an outdoor wireless weather sensor (more on this particular aspect a little later).
Interchangeable two and three-pin plugs are provided along with a remote control device. An on/off power switch is located on the back of the frame, as is an adjustable stand. You can wall mount the digital frame but this might reduce access to the play, photo cycle and brightness control wheel which are all positioned to top of the frame. Apart from the brightness control, all other features of the photo display can be access from the remote control.
You can select the type of memory card being used and whether images should be displayed in original or optimal size. Images can be set to appear in a slide show that will be run automatically after a user-selected period of time with a choice of fast, normal or slow speed in either a random or set order. Various transitional effects are available; actually the choice is not large and is rather disappointing, while images can be displayed individually or four at a time.
As mentioned earlier, this digital photo frame can also provide some basic weather features (always a contentious and popular subject in the UK). Don't expect any warnings of hurricanes, snowstorms or heat waves and you will not be disappointed. Information will be provided as to the indoor temperature and humidity along with the outdoor temperature on an LCD panel running below the picture display. While the photo frame can gather data relating to indoor factors from its own sensor, it needs some assistance with outdoor temperature.
This is provided by a plastic unit that comes with its own docking station than can be wall-mounted to an outdoor surface. This sensor is powered by two AA batteries which are supplied. It will then communicate via wireless with the photo frame. This weather centre feature does attempt to offer a weather forecast in the form of icons that represent the possibility of rain or sunshine. However no claim is made as to the accuracy of the forecast.
If you regard the weather aspect as a novelty or gimmick, which is displayed whether the photo frame is turned on or off, then you will not be disappointed. Maybe in the future developers will consider including more practical features such as a smoke alarm, DAB radio, calendar or memory aid. The Polaroid 7-inch Digital Picture Frame with Weather Station has an official price point of £99.99 which could well put off prospective purchasers, but as usual is available for less. One example, PC World, has it available for £69.99 on the following link :