Toaster and Kettle review

Published 10 June 2008 Author
jzblue
Are you looking for a new toaster or kettle? With so many brands out there it can be very confusing so here is a simple guide to help you choose.
"Bread and water can so easily be toast and tea." Anonymous
When I suggested to my colleagues at Gadgetspeak that we should look at toasters and kettles, I didn't realise quite how much toast I would have to eat, nor how much tea would be involved!! But we do like to be thorough for you, dear reader.
A piece of toast is not just a piece of toast to the British. It is a whole emotional experience that can instantly take you back to your childhood - the pinnacle of comfort eating. Because of this we felt we couldn't just ram a slice of pasty white sliced loaf into the slot of a number of gleaming machines. We devised 3 tests to explore the idea of toast in all its glory; a slice of Waitrose best Farmhouse Batch to give us the ultimate slice; a New York bagel cut in half and toasted, not just warmed, to test the depth of the toasting; and a slice of pita bread to give the kind of thin toast that was bound to slip down inside the toaster and be impossible to get out.
We did try to think of devious ways to test the five kettles we had but unfortunately just boiling the water was the best we could come up with so we have scored the kettles on the design and any eco-credentials they might have. We were very disappointed that only two kettles seemed to have taken on board the issues surrounding over filling your kettle and incorporating it into their design effectively.
Wherever possible we have tested in pairs - looks are definitely important and a matching kettle and toaster look so much better.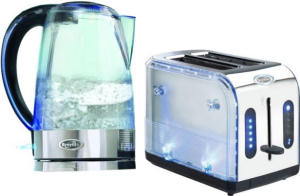 A very sleek pair for your kitchen, both of these performed very well in testing. The toasting was quick and even and produced the best bagel - golden on the outside and still chewy on the inside. The kettle glowed a delightful blue colour and you could clearly see how much to water to put in or how much was left, which helped us to be more environmentally friendly by only boiling what we needed.
There were two things that let this pair down. When the toaster wasn't being used, it still emitted a blue light from the body and the display. If you turned it off, so as not to waste electricity, you had to reset the temperature when you turned it on again. The kettle was actually quite heavy, even without much water in. We didn't feel this would be a product for the older generation.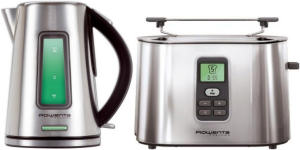 We had such high hopes of this set. When we unpacked them they were by far the best looking and we couldn't wait to see how they worked. Unfortunately this is not a case of function following form. The toaster took twice as long as any of the others and, as a result, it slowly dried the toast, the bagel couldn't even be saved with lashings of butter and the pita was more like Melba toast. The kettle boiled the water nice and quickly but it was very hard to judge how much water to put in for just one cup of tea.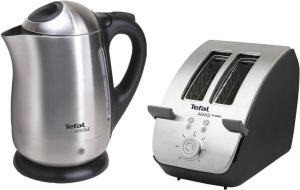 Now this was a most striking looking toaster. It almost seems to offer the toaster towards you in a very ergonomic way, although the pita bread nearly shot out when it was done which caught us a bit by surprise. The rubber handles marked quite easily and we felt this one would be a bit of a pain to keep looking clean. On the toasting front we put it second, once we had got the temperature right. The kettle was fine but not exciting and once again difficult to see clearly how much water to put in.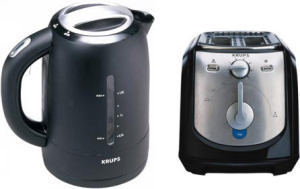 A nice solid pair which performed well. The toaster had a bit of a width issue with our farmhouse loaf (too much bread, too small a slot) but the results were yummy. The instructions seemed a lot more complicated than the other 'plug and play' models.
Krups' kettle was solid to look at but was needlessly complicated to use with an extra button to open the spout which wasn't really suitable for older hands. It wasn't terribly easy to see how much water was in the the kettle.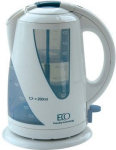 The EcoKettle works on the premise that we overfill our kettles and by boiling more water than we need, we are using too much energy. It has a central reserve that you fill with water and a plunger button in the lid. Each plunge of the button releases around a cupful into the boiling chamber. In our trial we found this kettle a little bit cumbersome and over-complicated but it does have the attraction of using 31% less energy than normal kettles according to the Energy Savings Trust. What isn't clear is whether that is because you are boiling less or whether the design itself is more ecological.
At a glance
Toasters
Model
Toast test
Bagel test
Pitta test
Design
Overall
Price
Breville TT68
4
5
4
3
16/20
£39.99
Rowenta Prelude
2
2
2
4
10/20
£29.83
Tefal Avanti
4
4
3
3
14/20
£29.99
Krups FEM231
4
3
3
3
13/20
£39.95
Kettles
Model
Design
Speed to boil
Eco credentials
Overall
Price
Breville JK147
4
3
3
10/15
£34.95
Rowenta Prelude
3
3
2
8/15
£38.74
Tefal Vitesse
3
3
1
7/15
£29.99
Krups FLF294
2
3
2
7/15
£39.99
Eco Kettle
2
4
4
10/15
£38.49