Homedics Handheld Mini Massager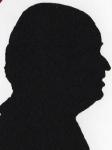 The problem with handheld massagers is that unless the area of pain is reachable you need another person to operate it. While as an older person I have aches and pains all over my body like a lot of other people my back is the main offender.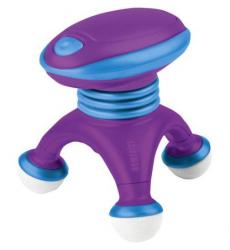 click image to enlarge
The unit has three feet which means that the area it can work in is fairly wide as all the feet vibrate to give relief to a larger area.
The area you hold is oval at 9x6cm with the power button at one end which is likely to be the front. So there are two feet a total of 11cm apart below this with the back foot 11cm back and mid-way between the two front feet.
In an attempt to see what areas of the body could be covered by this device with the operator also the recipient I worked up from the feet to near the junction of the body trunk both inside and outside of the legs as well as the front and the back.
Providing you are able to happily operate it in either hand the arms and front and side of the trunk should be coverable.
Depending on your flexibility some areas of the back are reachable the main area that is unreachable is between the shoulder blades.
With back problems also come flexibility problems so you may be better with one of the chair attachable units to treat those unreachable areas unless you have a willing partner to administer the Mini Massager.
I found it helped with arms and legs and also having the three feet went well over the knee area. It also covered the elbow area efficiently.
It weights 156grams with the supplied two 'AAA' batteries in place.
There is a small 18 language sheet but most will get all the information required from the four illustrations. As most information sheets tend to soon 'go walkies' the illustrations are repeated on the outside of the box.
It seems there are three colour sets available. Mine was blue on top and in the legs with green socks and an orange central area; other choices are orange, blue and green or green, dark blue and orange. All three combinations have white feet.
It is sold as a muscle relaxant so anyone who has exercised too much could well find this unit useful, the size and weight mean it is easy to take with you when on a trip or holiday.
The Homedics Mini Massager is available from the link below for £10.
http://www.boots.com/en/HoMedics-Accunode-Novelty-Massager_1713945/