Withings Blood Pressure Monitor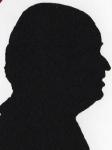 Having reviewed scales, various other fitness and health products from Withings it seems logical to cover a blood pressure monitor linked like so many products they do to an App so you do not even need to note down the units readings.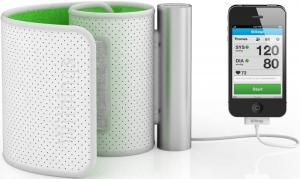 click image to enlarge
If you already have other items from Withings then the same App will work it may require a small update. The advantage of this is that you already know the layout. The App if you have not got it already with other Withings devices in Free and quick to download. It is designed to work with any 'i' device, that is iPhone, iPad or as I have an iPod touch.
It consists of a cylinder 15cm long and 3.5cm around, in one end you insert 4x'AAA' batteries and the rest of it is the electronics and inflation module to work with the attached cuff.
There is a hard wired 60cm lead that ends in a standard 'i' device connection that you just plug in to your device and then the Withings App will open.
There are no controls on the blood pressure cuff itself so you always need your 'i' device attached to activate a reading.
The cuff itself has no instruction or getting started sheet just instructions to connect it to your 'i' device.
Once the App opens there are five simple steps shown one per page about following the instructions and how to recall them once you have cleared the tick to display them on every connection.
These show how to attach the cuff to your arm just above the elbow they state the working circumference is 22 to 42cm. It reminds you to remain still and shows you how you should be seated with the cuff located level with your heart. It then shows the likely normal readings, once you press close you can then go to a screen that allows you to take a reading.
If you have not taken one recently it will check the configuration.
You then get a screen that show Systolic (the higher reading) Diagnostic (the lower reading) and the one that's most relevant to me BPM (pulse or heart rate beats per minute). Until you press start these figures are blank.
The machine then starts inflating the cuff and only a single figure is shown until it peaks then it gradually reduces the pressure and then the Systolic, Diagonnostic and BPM screen is displayed again this time with the readings. You can then type a comment on the bottom of your screen with any relevent facts, like just run ten miles, or more likely in my case just done the hovering or washing up.
Your doctor will normally wait a short while and repeat the reading. The Withings device in automatic mode will take three readings.
It has some basic advice about readings and it can be setup to give you reminders.
While this unit seems to give accurate readings I was not that impressed. The cuff itself was quite bulky to carry around so most will leave it in one place. Yes it is nice to have a device that does the record keeping and they even suggest it could email your doctor with results, possibly a more tempting solution than the '24 hour tape' method most doctors seem to use.
Used in conjunction with scales and something like the recently reviewed Pulse it can give an overall health/fitness reading that could be useful. I am somewhat surprised that it uses a wired connection rather than Wi-Fi or Bluetooth that now seems to be all the rage. Having a wired connection will insure you sit still during the testing and that is vital for an accurate result.
The Withings Blood Pressure Monitor is available from the link below for £116.95 with free delivery.
http://www.amazon.co.uk/gp/product/B004K2KYM8?ie=UTF8&tag=gadge0a-21&linkCode=as2&camp=1634