Remington Titanium MS5800 electric shaver

Published 20 Dec 2007 Author
petew
Through the many years that have past since the first whisps of stubble fought their way on my spotty young chin I've tried all the various shaving solutions in a vain attempt to create a baby smooth finish.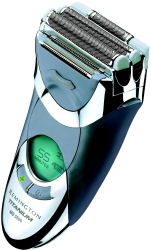 During that time I've switched periodically between electric razors and wet shaving. By far the best result is always from a good wet shave, albeit often with the effect tarnished a little by the odd nick by one of the ever increasing number of blades.
I've recently been offered the chance to put the new Remington Titanium MS 5800 electric shaver through it's paces. Remington isn't a brand I've used before but in the hopes of an even better and easier shave I, like many men I think, am willing to give anything a try!
The MS 5800 is a rechargeable foil razor with two main foils and a third smaller 'pop-up' foil and a trimmer. The pack contains the shaver itself, charging lead, travel pouch, small cleaning brush and a small instruction leaflet.
The built in NiMH battery will fully charge in around 100 minutes and will then give you approximately 55 minutes of shaving time. A useful LCD display shows you roughly how much time you have left, which I found very useful. The last electric razor I owned had no such display and it was very frustrating to wake up - start to shave only to have the thing grind to halt having just about completed one half of the shave! If you have allowed the battery to go flat you can do a 5 minute 'quick charge' and then use the shaver plugged into the mains. Additionally the last 5 minutes charge is only available by pressing a 'reserve' button - great if you forget to check the display periodcally - there's always enough charge for a shave.
The manual is pretty short - with 6 pages in English. These were however sufficient, and covered some useful shaving tips for those of us not used to electric shavers. The most important tip being 'not to push the razor hard against your face', something I think I did instinctively as a result of many years wet-shaving. Reducing the pressure until you're very lightly moving the head over your face definitely made the cut closer.
As well as the two main foils there is a smaller third foil that 'pops up' - much like a trimmer. Given that the main foils are large and the device quite chunky, this third foil is invaluable for at least that small area right under your nose.
Cleaning after use is as important for electric shavers as for wet blades. In the case of the MS5800 it is recommended that you remove the head, brush out the insides and then run the cutting blades under warm water, something that I was at first somewhat reluctant to try! There have however been no problems with this way of cleaning and it soon becomes second nature.
Under 'getting started' the very first paragraph suggests that you use your new shaver daily for up to four weeks to allow time for "your beard to become accustomed to the new shaving system". I have been using the product for around six weeks, but have to admit to not shaving every day - and also to reverting to a wet-shave for those occasions when I needed to look my best!
In my own experience I would say that the result - once you get used to using this shaver is quite good. Is it as good as a multi-blade wet shave? In my case no - a wet shave still leaves my face much smoother than the Remington. Also, to achieve a good all over shave takes considerably longer than a wet shave. This in part is undoubtedly due to how my beard grows - which is very close to my face. I'm one of those wet-shavers that can only get a good trim by "going against the grain". The Remington would undoubtedly give better results for those whose beard grows straight out from their face.
Cleaning is also a little more time consuming than a wet shave. Where I'm used to swishing the wet razor under the tap, here I need to remove the head, brush out the inside then rinse in warm water and then leave the head of until the unit is dry. Cleaning can of course be skipped for those times when you're in a real hurry.
The Remington MS 5800 is definitely one of the best electric shaves I've had from the various products I've used over the years. Getting good results does however take longer than a wet shave, having to got over the same spot multiple times from different directions. If you are a fan of electric shaves, and are happy with foil rather than rotary products then this product should be a candidate on your list.
If you're traditionally a 'wet shave' kinda guy but thinking of going electric, as the manual says, stick with it for a good four weeks and don't be too put off by the first few shaves!
One of the things that always put me off electric shavers was the cost - both of the initial device and also replacement parts. I remember my very first Philishave - had it for a few years when I decided to replace the cutting heads. It turned out to be cheaper to throw the whole thing away and buy a new one - which is of course completely crazy.
Although the recommended prize for the MS5800 is around £100 (from boots £99.99), it is now much reduced in many outlets including Amazon where it is a very reasonable £39.99 including delivery. I'm also very pleased to find that replacement foil and cutter pack costs as little as £16, again from Amazon. My value for money smiley is based on the lower price!