Lindy In Ear Headphones IEM-50X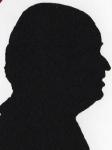 A set of earbuds with a twist – literally – that enable you to increase or decrease the bass heard at a twist of the earbud housing, so could this be a first adjusting the sound frequency level while a song plays and going only to your ears.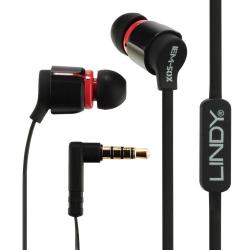 click image to enlarge
The buds are 2cm long and 1cm across, the lead is flat and 1.23metres long it ends in a right angled gold plated 3.5mm plug.
The left earbud has 15cm of lead before the inline control and then another 18cm before it joins the right earbud to form a single flat lead to the plug.
While flat leads are popular for the reason they are less likely to tangle and you see a lot more of them on the train or tube they are not totally tangle proof as I have proved myself having left them on desk overnight they managed to engage with another lead and seemed reluctant to part.
Also in the box are a carry pouch (like a zip up purse), six sets of ear tips and a small User Guide.
The 'Dynamic Bass Tuning Twist' is exactly what it says, twist the part of the earbud not in the ear by around 30 degrees and you have more or less bass, you of course need to do this on both earbuds. When out of your ears you will notice a red line and in the small area between the ear tip and the rest of the earbud (collar) two black dots around 30degrees apart the back are moves easily between the two but will not do so unless you implement the move. If you look closely you will see one of the two black dots is hollow and the other filled, for those with less than perfect eyesight maybe making one a different colour would have been easier to distinguish them apart.
The buds have a 6.5mm dynamic driver, the frequency response is between 8-20kHz and maximum power input is 3mW.
This leaves sound quality and comfort. Let's start with comfort the silicon buds fit into the ear without 'undue plugging' so you are less likely to get swelling of the ear as they fit rather than plug. Test all three sizes of earbud to see which size you are and then you should be able to wear them without discomfort for many hours.
So onto Sound Quality, most will be using the earbuds with their SmartPhones so the likely output to the ears is MP3 and this is less than perfect sound as it is compressed and as such a lot of the lower and higher registers are removed but in my tests the sounds were reasonable.
I also attach all headphones and earbuds to my audio system and play a range of selected CD's with tracks selected to cover both lower and higher registers and certainly with the lower registers I had Dynamic Bass off.
The stereo separation was good both with MP3 and higher quality sounds.
The Lindy IEM-50X are available from the link below for £42.99 with free delivery.
http://www.amazon.co.uk/gp/product/B00UN2HYF4?ie=UTF8&tag=gadge0a-21&linkCode=as2&camp=1634