Two types of Playbulb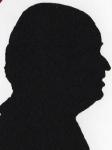 A small candle type bulb running on batteries is the first and a standard screw fitting bulb the second. Both can be controlled manually or from a SmartPhone App. The candle can be extinguished by blowing on it or lighted in the same way.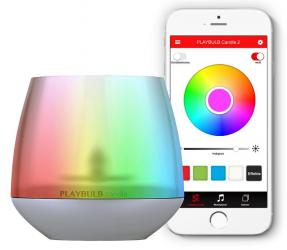 click image to enlarge
Playbulb Candle
Yes it's not a misprint once the batteries are inserted the unit can be turned on or off by simple blowing across the top of it. Now I have seen such a candle light before that can be turned off by blowing on it but never one that can be turned on in that way. There is a small on/off slider that stops this happening unintentionally.
The Playbulb App is easily downloaded and can make your unit do all sorts of things such as change colour, flash, progress through a range of colours, be a certain brightness and lots more.
It is 8.5cm tall, 8.5cm wide at the base and 6.5cm wide at the open top of the plastic container. In the centre of the base is a small candle flame bulb and there are 3cm round hoops to surround this that are scented for those who want scented candles without the risk of fire.
It is powered by 3 'AA' batteries that fit in the base so as stated no danger of fire even if it get turned over and falls into the bath. As the voltage is only 4.5volts no danger of electrocution either.
It gives a whole range of 'i' devices that it works with. I have Android 5 where it works fine. However the statement reads 'Android 4.3 with Bluetooth 4' and when in the past I have tried such devices I have had problems with Bluetooth 4 not being implemented correctly so be sure it works with your SmartPhone before you buy.
The MiPow Playbulb Candle Colour is available from the link below for £21.99 with free delivery.
http://www.amazon.co.uk/gp/product/B00PB4VXDS?ie=UTF8&tag=gadge0a-21&linkCode=as2&camp=1634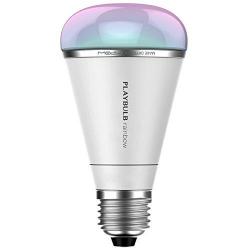 click image to enlarge
Playbulb Rainbow
It is 11.5cm tall a cone shape with a 6cm top and has a standard screw fitting not the bayonet type found in most ceiling fitments. Screw fitting are becoming more normal in the UK for wall fittings and various stand-alone lamps.
Screw the bulb in and you have a standard white light bulb. Load the iOS or Android App (remember the Android proviso mentioned above) and you can have whatever colour light you require and at what brightness so it could even work as a child's night light.
Most basic things are controlled from a single page in the App. Top left a slider on/off called Shake and if you shake your phone you change the colour. Top right another slider with Colour or not, this just dulls the colour range. Below this a wheel that allows you select any colour you want. Lower still a slider that goes from off to on and finally blocks of Red, Green, Blue and White.
However there are effects like Candle, Flashing, Pulsing and two different Rainbow effects all can have a range of speeds on the slider. There are also Music Player options and Scenes either those provided by default or you can import your own images and take an eye dropper to get the exact colour you require.
MiPow Playbulb Rainbow is available from the link below for £39.99 or £99.99 for three, with free delivery.
http://www.amazon.co.uk/gp/product/B00Q8IR3MG?ie=UTF8&tag=gadge0a-21&linkCode=as2&camp=1634