Plantronics RIG Surround Headphones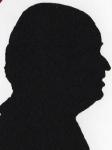 These are powerful headphones designed predominately for gamers as they are 7.1 channels, so you should be able to hear the slightest noise from far away and for a gamer this is possibly the difference between life and err death.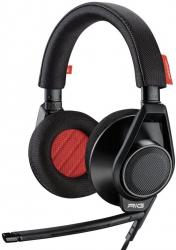 click image to enlarge
They are over ear offerings and are super comfortable, or course they need to be as gamers are likely to wear them for many hours on end. From the tip of the headphone to the centre of the headband is 18cm.
There is 4cm of expansion in each arm and the figure quoted is when fully expanded. I think my head would be called average ad I only needed 1cm of each arms extension to be comfortable.
Both the handband padding and the earpad covering are of a similar material that seems to sweat absorbent; at least I was not visibly sweating even after wearing them for an extended time.
My first test was not with the lead and controller provided but just with a standard 3.5mm extension cable playing music via the Auxiliary socket of an MP3 player and then from the same on a SmartPhone. Either way the sound reproduction was superb. I then connected this same lead to my audio system and again I was more than happy. So as a standard set of headphones they are great. This is probably down to the 40mm drivers.
As a gamer music is of course not what you are using the headphones for but to hear noises all sorts of noises and for that you need a special driver. A 7.1 Dolby driver is available from the Plantronics website.
Download this and then whatever the game you play you should be able to use your ears to maximum effect.
A 1.9metre USB lead is hardwired into the controller as is a 40cm 3.5mm lead which fits into the side of the left earpad.
The control has a flip mechanism on the face so you can quickly change from your phone the gaming side.
Each earpad has independent sound adjustment so anyone – even non gamers – can benefit so if you have less hearing in one ear that can be set higher. There is also a Mute control for those times you take a break.
The controller is also a USB amp so even someone with limited hearing is not left out of the mix.
For those who need to speak as well as listen a 1.5metre audio lead attaches to the headphone with a boom microphone for those who only need to listen then this is easily removed.
There are three equalizer settings so whatever suits your game or even phone conversation is catered for. A simple switch on the controller lets you choose between Pure (best for speech), Intensify or Seismic.
Of course all this comes at a price and what you are paying for is the USB amp and of course the ability to have 7.1 Dolby sound.
The Plantronics Rig Surround is available from the first link below for £68.26 with free delivery.
http://www.amazon.co.uk/gp/product/B00NWE0LIC?ie=UTF8&tag=gadge0a-21&linkCode=as2&camp=1634