Hyper Tec Wireless Boombox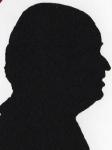 Review controls
This is a wireless (Bluetooth) Boombox that is able to get reasonably wet and has an uncanny look like a sculptured shape with its fourteen upward facing edges which are there to project the sound, twelve of them have a speaker grill finish.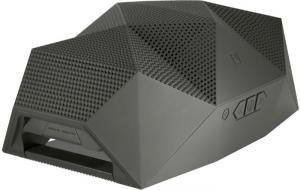 click image to enlarge
I remember the Sunday morning when I removed this from the box and bleary eyed thought for a long time – without reading the instructions – the difference between 'in' and 'out'. Then slowly the penny dropped as this is not only Bluetooth speaker but also a battery charger.
Having sorted the rubber bung under the right side edge I moved to the rubber bung under the left side edge and as my sight slowly deciphered the grey black rubberised impression by the two identical 3.5mm sockets one said 'in' and other 'out' both however had the word Audio before them.
Now to move to the front – a little more with it now – I knew it was the front because there were four impressed buttons, a round one and to its right a set of three back, walk and forward.
At this point I delved into the box and found the short mains lead and the longer power adapter lead that my brain now worked out needed to go into the 'in' socket and maneuverer to the end of the unit that also had the full size USB so no danger of trying to plug this into the Audio sockets.
A bright red LED showed through the grill so I worked out that power was being received. A long push on the round button had a female voice saying pairing and then low battery, I opened my iPod and Bluetooth offered me ODT BIG TURTLE as an option so I paired and very quickly the voice came back saying paired.
So in ten minutes without referring to any documentation I had music playing and I had proved you could set this up in your sleep, not that I – or I am sure – the manufacturers say this is what you should do.
So my sculptured shape was a turtle yes my now reasonably alert brain started to see the comparison.
On reading the surprisingly readable small manual that has managed to avoid a type size requiring a magnifying glass 'Anatomy' – they seem to have a sense of humour like mine – what the middle 'walk' button does it is a multi function one that not only does play/pause but also answer for those linking to a SmartPhone so I now worked out that one of the holes in the grill must have a microphone behind it. The second page of 'Anatomy' points out exactly where it is. Page three points out the 'Grab Handles' on the base together with the 'Passive Bass Port' that can give a good volume when placed on a table of such item.
Page four is entitled Power and explains the Red LED and that this goes out when fully charged but the unit works fine while being charged. When not connected to the mains it flashes red and when very low the lady says 'Charge Me'.
Page five and six cover Pairing and tells you how to connect to two devices at the same time and should your SmartPhone support NFC this can connect in that way as well. If your device does not have Bluetooth you can connect using a 3.5mm lead (not supplied).
So now to return to the USB port I found all that time ago when I was hardly awake that Sunday morning it can be used to charge your SmartPhone or other device but of course this will lessen the time the Big Turtle can play between needing to be charged.
As a speaker you should get 16hours of playtime between charges. The box states 350hours of standby time.
The sound from it was excellent both using Bluetooth and 3.5mm lead. Reading on in the manual it mentions Traditional mode and Surrround Mode. The first is how most of my tests were conducted but I turned it on its front to emulate Surround Mode.
The Big Turtle Shell is available in either grey or black from the link below for £199.99.
http://www.madison.co.uk/products/electronics/headphones-speakers/headphones-speakers/big-turtle-shell-grey/