KAI² Capsule Speaker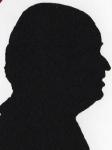 This is a tiny portable Bluetooth speaker. Like an egg without the ends, however twist the centre and then the egg shape expands. So can this be an answer to sharing music in a small space without having to have large speakers?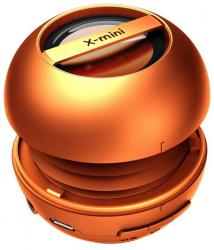 click image to enlarge
The X-mini measures 4.5cm high and 6cm across when collapsed, twist it and it expands by 3cm, it weights 129grams which includes a short 10cm long 3.5mm lead for those times when you need to connect by lead or when no Bluetooth device is available.
So let's first deal with cable connection the 10cm lead always seems a little less than a comfortable amount, it does however mean that speaker and playing device remain close together. The volume achievable is not huge over that available from a devices internal speaker – if it has one – but there is not spread including a little bit of bass.
For personal listening this is adequate in a quiet room. Placing it on a table does not seem to help or hinder the output. What does improve output considerably is to remove the rubber bung from the top of the unit which is where the speaker throws from. In fact even with the concertina centre is collapsed the sound is still decent providing the rubber bung is removed from the top.
Bluetooth gives you more freedom in that the device can be several metres away from the speaker. I got two rooms away (four solid walls) before the signal started to drop.
Volume was a little better but then most of my test devices for Bluetooth were modern phones that improve the volume level from what was played.
Sharing music in public is always a thorny subject and certainly in a noisy environment this would not 'cut the mustard'. However in a quiet room it could provide a perfect background.
In the box are the KAI² a small manual that would provide entertainment for a puzzle expert, ten 6x7cm sides and only two have words on, it claims to cover 21 languages.
The unit is charged by a micro USB to USB lead which also has a 3.5mm audio lead built in for those times when the 10cm built in lead is not enough.
There are three tiny rubber feet spaced around the base, a three position control is just above the base, on/off/Bluetooth. Further up the side are a 3.5mm input socket, micro USB and three small bar buttons all of which have two jobs, track back and volume down, play and pause, track forward and volume up. These have fairly clear icons by them. The rubber bung top is strange it needs to be removed to give anything decent in the sound stakes but needs to be replaced when not in use to protect the speaker, it is attached to a tiny lanyard to stop it being lost.
To me this is a nearly unit, the twist action to give a bellows effect is novel but maybe the next version will get it perfect.
The KAI² Capsule Speaker is available from the link below for £17.48 with free delivery.
http://www.amazon.co.uk/gp/product/B0071AKB38?ie=UTF8&tag=gadge0a-21&linkCode=as2&camp=1634