A Multi-Featured Radio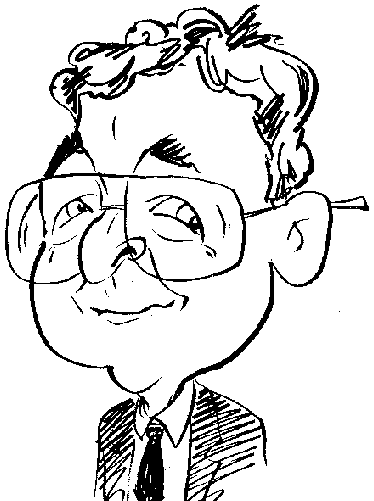 Tt can be worrying (well only slightly) if you are put in the situation where you come across a product with the word "Retro" in the title and you realise that you can remember this particular look from your youth or even later. Surely Retro has to mean before "my time" but sadly that seems to be no longer the case. In my defence I will state that with this next item, the Retro designation did refer to the appearance of the product rather than its in-built functionality which did feature an impressive array of some of today's modern technology.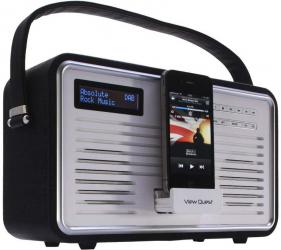 click image to enlarge
As part of its retro series, View Quest has released its Wi-Fi Radio model. This product is available in a choice of black or white face with the rest of the unit coloured matte black. Box-shaped, this radio with a useful carry handle, has dimensions of 284 x 94 x 170 mm (W x D x H).
Capable of running off either the mains or four C batteries (not supplied) slotted into a compartment at the rear, the overall look of this radio certainly brings back memories of an earlier age especially with the reasonable sized tuning knob at the front. Along with this knob, the radio's front panel also features two rows of control buttons, a small display window with a 128 x 64 pixel resolution and a pop-out docking station for use with an iPod or iPhone. An extendable metal aerial is located at the rear of the unit.
Setting up this radio is a strange mixture of ease-of-use and awkwardness. In some cases, such as DAB and FM radio, you can sit back and let the radio do the work but not everything is quite that simple. While the Operation Guide for this product provides instructions for tackling various tasks, the controls you need to use are not all that intuitive. I seemed to spend a great deal of time spinning the front mounted knob in either direction in order to cycle through various options especially when entering the password to integrate this radio into my home Wireless network.
To carry out what should be a simple operation you need to select each character by spinning this knob through the full ASCII (American Standard Code for Information Interchange) character set with both upper and lower characters. To select a letter you need to depress this knob and then use a Next Track button before selecting the next character using the knob. There were also several occasions when I needed to skip passed the option I wanted and then return to it before it was highlighted for selection. Surely an easier method could and should have been designed.
A mode button allows you to access the various features supported by this Wi-Fi Radio with the display window showing the available choices in chunky text. There is support for three different radio modes as you switch between FM (with up to 20 presets available), DAB/DAB+ and Internet radio. This latter option is referred to as the TuneIn option by the radio and accompanying Operation Guide. You will require access to a wireless network to take advantage of this feature with a degree of waiting time as connections and buffering is carried out.
For those who prefer listening to their favourite music already in their possession, this View Quest product offers three methods of achieving this task. As already mentioned there is a pop-out docking station on the front of the radio. Identified by the View Quest logo, you need to press this area for the docking station to appear and then you can mount your Apple device (iPod/iPhone) and select the iPod option using the mode button. According to the supplied documentation, you are meant to be able to control the Apple device by using the Wi-Fi radio but, apart from volume adjustment, my iPod Classic refused to cooperate. If I needed to change tracks or fast forward/backwards then I had to use the iPod controls.
A standard 3,5mm jack socket located on the rear of the unit can be used to attach other appropriate devices, such as an MP3 player, that contains audio files. The Wi-Fi Radio supports WMA, MP3 and OGG formats. The third option is the Media Centre which uses UPnP to access music that is stored on your computer. You will need Windows Media Player 11 or later on your computer with the media share setting selected.
The Wi-Fi Radio also has an Information Centre for selecting weather information for your current location which will then appear as part of the Standby screen display and financial information from sources, such as NASDAQ, FTSE and Dow Jones, which scrolls across the screen. The Information Centre can also display system information. There is also an option to set up two alarms with their own individual settings that include frequency, type and volume level.
The View Quest Wi-Fi Radio is certainly a wide-ranging piece of kit for providing audio entertainment. With FM, DAB/DAB+, Internet, iPod, UPnP and AUX, you are spoilt for choice. However there is a downside and that is the control system which makes a mockery of ease of use. If you can manage to get your head around of poor controls then the View Quest is well worth considering with its price tag of £149.99.