Hannspree 28inch LED TV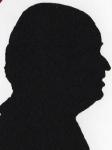 My 32inch TV is light in compassion to my previous offering, at 28inches this is only slightly smaller but is so much lighter again. Going back still further my TV before was also 32inch but a CRT and this far heavier again.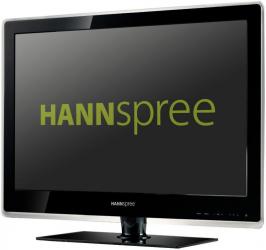 click image to enlarge
It is of course HD a scan finds 112 channels. So providing 1080p is what you want or need this certainly has things to recommend it, however the built in Freeview is not Freeview HD.
It is 66.5x45cm with the stand raising it by 5cm from whatever you place it on. The stand is 35x21cm and provides the stabilizing weight. The viewable screen is 60x36cm giving the notional imperial diagonal measurement of 27.5inches.
Looking at the connections on the rear you have mains input towards the right and everything else grouped towards the left. This is aerial input, SCART, HDMI, Component, AV, SPDIF, Video in and PC input via VGA and Audio.
Having said it is HD I connected a PC with the display set to 1920x1080 and it displayed the pixels were a little strange in shape – after all this is more a 4:3 shape – but it was quite readable and I was able to work with it without problem.
This unit become very useful during an illness that meant I spend most of a couple of weeks in bed. My laptop enabled me to keep in touch with the outside world and this TV meant that I was able to keep abreast of most TV programs that I usually watch. The actual colour was a little more vivid than with my own 32inch TV.
There are a range of reasons for this, the technology being more advanced being one, the age of my own TV being another. Looking at the signal received on both the main difference can be seen in very dark blue colours appearing near black on my own TV and therefore giving a darker image when you get night time scenes.
So in fact although the HANNspree is HD and is 4inches smaller in screen size the actual clarity and vibrancy is better. In fact watching 576p SD broadcasts is clear and sharp.
The sound is okay but with the thinner bezel it means the speakers are smaller at 5watts each so while it is perfectly clear it does not have the deepness. However the settings allow you to have a range of settings both with vision and sound. The choices on sound are normal, hard of hearing or audio description.
The controls are touch, on the bottom right of the screen surround and the seven control buttons are initially highlighted on switch on touch anyone and they reappear. The only lights that stay on are the HANNspree logo in the centre and the on/off button both in white.
Pressing the input button on the remote control gives the following options, TV, Composite, AV, SCART, PC, HDMI 1, HDMI 2 and USB. While the initial scan tuned in the five Analogue channels no immediate method of selecting them was obvious, most of the country loses them shortly – if you have not already – but the tuning options were Analogue and Digital or Analogue. No option to tune only for the 112 Digital channels.
The remote uses two 'AA' batteries and has 45 buttons including the ubiquitous five position joystick to surf menus.
When I purchased my 32inch TV that was the smallest that is capable of displaying HD channels, now some 28 inch offerings also have this feature, however it will only be available for other than aerial broadcasts as they are only 1080i.
Doing my Internet searches found the HANNspress SV28LMMB available for £259.99 including delivery from link below.
http://www.amazon.co.uk/gp/product/B004VLNQMI?ie=UTF8&tag=gadge0a-21&linkCode=as2&camp=1634
http://www.hannspree.com/Global/Product/Televisions/LEDTVs/SV28LMMB/Detail.aspx