Lindy Wireless Extender for HDMI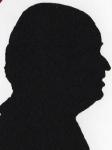 Review controls
Whatever device you want to transmit the signal from it can be transmitted by around 15-20metres to an output device providing both devices have an HDMI port; my home has a lot of solid walls and it works end to end.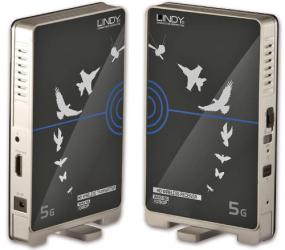 click image to enlarge
I tried this with a Blu-ray player, a video recorder, a Freeview recorder and two different PC one with only a Display Port the latter using a plug adapter also from Lindy part number 41018 that converts DisplayPort to HDMI.
The kit consists of a transmitter, a receiver, two DC power bricks, one HDMI cable and an IR extender as well as a user manual.
Let's deal with the user manual first, it is in four languages and the first four pages are in English, the instructions are clear and concise with two large illustrations to detail the parts on the transmitter and receiver.
Both the transmitter and receiver are the same size 15x13x2cm and look almost identical, they are called transmitter and receiver but the placing of the IR input and IR eye are in different places on each of the two units.
Setting up is just a matter of attaching the correct plug head to the two power bricks (UK, Europe and USA are provided), these leads are 1.5metres. One HMDI cable is supplied (1.2metres) so you will need another one. The IR extender cable is 1.4metres and has a sticky foot to get a good placement.
From switch on to a perfect picture on an external TV using its HDMI in was around five seconds and about another second before sound joins in. Of course if you want to use the same device in the same place often then why not move the Blu-ray player etc as then you would not need the HDMI extenders, however when you have a whole range of devices setup in a single place it is often easier to port the signal rather than move the devices.
This is also stated to work outside (30metres) so you could port the output to a garage or even to the next door house or flat. You could also use any other device such as a security camera in a remote placement easily.
When I have used some other wireless devices the quality has not been great and indeed the signal is prone to dropping out. Here corner to corner it has to go through six solid walls and the picture and sound was as good as that direct from a device only a single HDMI lead from the TV. In case that is not it was a clear sharp picture and excellent sound.
I mentioned a PC that did not have an HDMI device that is located at one side well watching a Blu-ray movie while lying in bed is luxury to me, so if you have a desktop PC and all the clutter that goes with it viewing the output in bed is great providing of course the bed is in the office, mine is not so while I was testing the Plextor external Blu-ray attached to my main PC I was able to port the output to my bedroom via the units. The one drawback is that the graphics card does not have an HDMI port only a DisplayPort apart from the VGA and DVMI ports, so a different Lindy device a plug to turn a male DisplayPort to female HDMI solves this and once again perfect output.
I did notice that on occasions the transmitter unit did get quite hot so vertical rather than horizontal placement is probably the best idea. Remember this is transmitting full 1080P.
Most will think of other devices such as projectors and the like that can also be the receiving end but I used only a TV. I repeat for those who think I do not say enough about sound and audio quality both were as good as the original.
The Lindy Wireless Extender for HDMI, part 38121, is available for £151.75
The Lindy DisplayPort HDMI Cable adapter, part 41018, is available for £24.99