Speakers with Style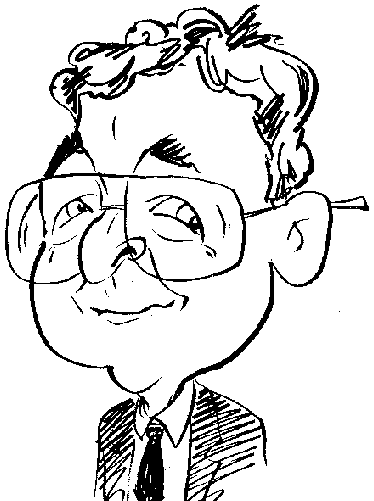 Review controls
Whereas speakers have traditionally been box-shaped in appearance, today's users tend to look for a more stylish appearance especially with regards to shape.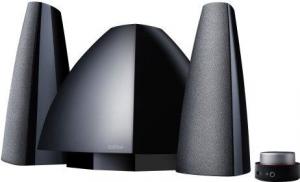 While speakers are meant to be listened to, there are times when you might like to consider their appearance as well as audio quality. At least one manufacturer takes this viewpoint and attempts to add some style to its products. That manufacturer is the Canadian-based Edifier Enterprises. As part of its Life Style range of speakers, the company has developed its E3350 product which has been designed for use with a desktop system or to boost the output from an MP3 player or iPod.
Opening the box reveals a subwoofer, two satellite speakers, power adapter/lead, controller unit, 3.5mm to 3.5mm connection cable and a mini User Guide. Capable of delivering 32W output and featuring a 5-inch driver, the subwoofer has a three-sided, curved pyramid look to it with a flattened top. The structure is on a plinth that houses the various connection sockets and a control wheel for adjusting bass. The flattened top of the subwoofer acts as an on/off panel where it is quite easy to initially escape your attention but it is a logical location.
Following a similar design concept, the satellite speakers, which are permanently linked by a lengthy lead allowing you to position the satellites 282cm apart, resemble obelisks standing sentry-like on either side of the subwoofer to deliver their 9W each of output. Built into these two units are 2.75-inch oval shaped drivers and a ¾-inch PV dome tweeter, The satellite speakers' dimensions are 96 x 234 x 118mm (W x H x D) while the subwoofer has a more substantial 248 x 199 x 294mm (W x H x D) set of measurements.
Connecting the satellites to the subwoofer is straightforward and by checking the base of the speakers you can discover which unit sits on the left and on the right. As with the lead linking the two satellites, the provided power lead is of a reasonable length. In this case the lead is 352cm (including the centrally positioned adapter brick unit) which should ensure that positioning this speaker system should not be a problem. The audio source device needs to connect via the supplied 175cm connection lead.
One final connection needs to be made in order to complete the set up. This is the controller unit with its permanently attached 175cm lead with a 9-pin plug. Without this unit, which features a volume level control wheel, there will be no audio output. You can position this controller unit on your work desk or other convenient location where it would be in easy reach for adjusting the volume level. The controller unit has a connection for attaching headphones.
While this speaker system is certainly capable of boosting the audio output level when used with various devices such as an MP3 player, iPod or computer, I felt it did little to actually enhance the quality of the audio which at times sounded tinny and lacked body. Furthermore, although I welcomed the generous lengths of supplied leads, I could foresee some having logistical problems with keeping the leads out of harms way when using this speak system with an MP3 player or iPod.
For general purpose use, this speaker system should provide capable but do not expect high quality output. With that caveat, this is a reasonable speaker system available in a choice of black, blue, gold, green, pink, purple or silver that will increase audio output. This speaker set has been priced at £59.99.