Memorex Sing Stand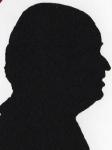 Review controls
If your singing is better than 'hair brush' standard then this item from Memorex could get you used to a Microphone so that when you progress you do not make the eating/licking the microphone mistake on your first gigs.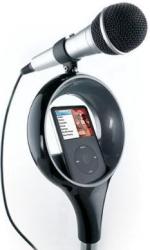 The base of the Memorex Sing Stand is circular at 32cm across and it stands 15cm high. The controls and settings are in the base. In the centre of the stand fits a three piece pole that stretches to more than two metres so that the supplied microphone can be at the correct level for all, no matter how tall or short you maybe.
The reasonable quality microphone has a 2.7cm lead attached and even an on/off switch on the arm of the microphone.
For those wanting to use tracks stored on their iPod or MP3 player there is a 3.5mm lead provided that again plugs into the base of the unit, the lead is just on two metres long. You could of course connect a portable CD player as I know there are CD's produced out there with just the backing track so your voice can shine through in all its majesty.
So although some may think this is a Karaoke machine it isn't. The manual talks of add ons but the ones I know require a screen such as a TV to show the lyrics. So maybe this is just a device to practice singing so you avoid the feedback and other such annoying (to your audience) traits.
The back of the domed Sing Stand has a hard wired 2.2metre power lead. Either side of the central pole are the microphone socket and the 3.5mm socket for iPod/MP3 etc. A couple of stand clips are provided to keep the leads tidy and close to the pole, we must remember 'elth and safety' even in the home.
Just in front of the pole is a red light (on when power is connected). In front of this an on/off push button and a 'Vocal' button. The rest of the front are five twist dials. There are four small ones for Mic 1, Mic 2, Guitar and Echo and a larger master control and these all form a semi circle.
There are five sockets on the right side and until you know what they do keep the manual handy as they do not have any indication of which one is for what input.
The whole of both sides up to the central area are speakers.
There is a ten language user guide and as stated you will need to delve into it to find out which socket on the side does what. Surely an indication could have been printed even on the base as there is no guarantee when getting say a guitar accompaniment you have the manual at hand to tell you it's the second from the left that it fits in. While the manual does, it's only with a rather indistinct illustration. I am sure that a large number of parents will be delighted that there is a headphone socket (not supplied) and when headphones are attached the speakers are automatically cut out.
I mentioned a 'vocal' button and according to the manual this works with an external unit that is capable of 'CDG' disc playback. This I understand means that if the 'vocal' button is in all vocals on the recording are suppressed, I do not have such a device so I could not test this feature.
I feel that this device could be so much more if the 'CDG' device or a least a CD of backing tracks had been supplied with say a book of the music provided. Yes it will teach important microphone skills without needing other amplification but especially if the user is a child then they will want more the 'CDG' device or even a full fledged Karaoke machine. The microphone is a reasonable quality and getting used to holding such a device will help. Perhaps most important please remember this is not a toy but a fist stage to a singing career.
Doing my Internet searches found the Memorex Sing Stand at a best price of £59.99 including free delivery from the first link below.
http://www.amazon.co.uk/gp/product/B0026P3J9Q?ie=UTF8&tag=gadge0a-21&linkCode=as2&camp=1634
http://www.memorex.eu/products/product_details.php?PID=50724