Two Ravensburger Items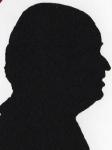 First an ingenious device called the Deco Mandala Designer and second something – say it very quietly – educational from the History of Art series, that dare I say is fun as well as educational what used to be called Edutainment.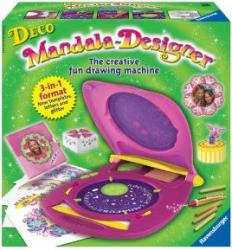 Deco Mandala Designer
This is stated to be for age 6-12 what worries me as certainly an 'over 18' is that I enjoyed using it immensely with one exception its pink!!
As stated it is two tone pink and around 35x35x6cm. You are provided with a range of stencils and the object is to make a design on paper using one or more of the provided stencils. However here is the clever bit you can repeat the design as many times – within reason – as you like.
There is a twelve page booklet that shows you how to use what and when. As this is the top of the range version it runs on 4x'AA' batteries (not provided) but lots of useful items like glitter and glue and a small supply of paper are.
Like most designing toys the more imaginative the child is the better the results will be.
Almost everything can be stored in machine, you have two large stencils and three small stencils. Buttons to automatically rotate the stencil, a handle to carry it around, storage compartment for coloured pens and felt tip pens. The glue, glitter and paper will need to be carried separately.
You can select parts of a stencil (either large or small) to transfer so there is a huge range of items including letters that can be transferred. However you can even make personalised greetings cards, gift bags, gift boxes and even photo frames with the Mandala Designer.
Doing my Internet searches found the Deco Mandala Designer at a best price of £23.93 including free delivery from the first link below.
http://www.amazon.co.uk/gp/product/B001CA48PA?ie=UTF8&tag=gadge0a-21&linkCode=as2&camp=1634
www.ravensburger.com/united_kingdom/products/new/crafts/deco_mandala_designer_machine_18637/index.html
Memory History of Art
It comes in a 15.5x15.5x2.5cm box. There are 48 thick cardboard cards. It is stated to be a game for 14-99 year olds (I qualify) and for two to four players. Based on a game most will have played with normal playing cards where the cards are placed face down and you turn two over trying to find a pair.
The difference here is that there are twenty four pairs of works of art, so you are remembering numbers but images and that is a lot harder.
The small manual lists who the selected artists of the twenty four pairs are they range from the 1400's to the late 1900's.
A very simple concept but with the added twist of perhaps learning about some of the great masters and at the same time having fun.
Doing my Internet searches found Memory History of Art from Ravensburger at a best price of £9.99 from the first link below. However there are others in the series such as Bob the Builder for the younger ones.
http://www.amazon.co.uk/gp/product/B00126R2WK?ie=UTF8&tag=gadge0a-21&linkCode=as2&camp=1634&creative=6738&creativeASIN=B00126R2WK
http://www.ravensburger.com/united_kingdom/products/new/games/history_of_art_26473/index.html