LG Flatron M2294D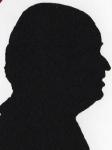 Review controls
This is described as a 'Wide LCD TV Monitor' but apart from being able to display Analogue and Digital TV it can also be used as a computer monitor and can also accept both Analogue and Digital input and has a range of other connections on its back.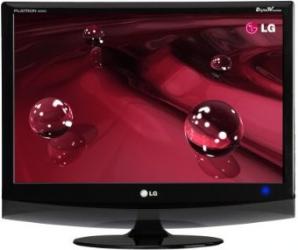 The LG Flatron M2294D is 51x39x7cm and totally black and has a 19x26cm stand that raises it around 6cm from whatever it is resting on. It has no side to side movement but can tilt back close to 20 degrees and forward by around half that. The actual screen size is 30x47 giving the notional 22inch diagonal measurement. It is very light to move around at under 5.5 kilos.
First as a TV all you need is a coaxial lead to plug into the back and on first switch on it should find both the Digital and Analogue stations in your area. In my case it found the five Analogue TV channels and my video recorder and during the same four minute process sixty one Digital TV channels and twenty three radio channels. All gave good reception, the only renaming/reordering I needed to do was for my video recorder and this was easy enough to do from the forty five key remote control.
There are eight thin rod buttons on the lower right side together with a headphone/earbud socket. What each button does is clearly shown in white writing, just as well as the 'Easy Setup Sheet' does not show these details anywhere. However once you have used the lowest button to switch it on everything else can be done from the remote control.
The 'Easy Setup Guide' consists of a large sheet in ten languages that as far as I could tell covers three models. However this covers assembling the base into the screen and showing the various connections on the rear of the unit (useful if it is placed near a wall) so you know what connector will go where. Finally it shows the remote control and what buttons work with what options.
When being used with a TV you will probably have to cycle though various other options. However I found when plugging in either VGA (Analogue) or Digital connections for use with a PC it immediately changes to the correct mode. Beware having the PC set to high the maximum resolution it supports is 1280x1024 and it set higher you just get the nice screen saver message scrolling across the screen saying 'Out of Range'.
The other settings you have on the back are two SCART sockets, two HDMI sockets, Component sockets as well as a single 3.5mm socket to allow the unit to output sound from a PC.
Having said earlier that the side controls are unlikely to be needed you will of course need to use them to adjust Brightness/Contrast and the volume when using it as a PC monitor, or so I thought. Recently I reviewed a panel from another manufacturer that was altogether too quiet even at maximum volume. This unit sounded just as quiet when I first connected it until I checked the setting it was on 24/100 and once up over 50 gave a good substantial sound easily good enough for say carrying on a Skype conversation.
However it is possible to use the remote control to make most adjustments, certainly the Contrast/Brightness and Backlight to get the settings you want.
Now would I be happy to use this unit for everything? For me no, I like a larger TV, however if space was at a premium such as a person living in a studio then it is quiet useable for watching TV, playing DVD's and even working with a PC. In fact I have used it as my main monitor for a week and once I changed a few settings it works okay. Yes I like to see far more than the 1280x1024 displays but it works.
Should you ever need to disassemble it's a simple thumb turn mechanism that makes removal and reattachment of the base a breeze.
This would make an idea backup both for a TV and a Panel. In fact on my old Windows ME system (still has its uses) I have a 17inch LG Flatron monitor that I have had for the best part of ten years.
Doing my Internet searches found the LG Flatron M2294D at a best price of £243,99
http://www.amazon.co.uk/gp/product/B001IDZ44A?ie=UTF8&tag=gadge0a-21&linkCode=as2&camp=1634
http://uk.lge.com/products/model/detail/multifunctionmonitor_m2294d.jhtml