iPod Docking Stations from Pure and Gear4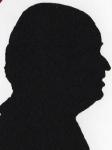 Review controls
Here I am looking at iPod docks from Pure (the DAB radio people) and from Gear 4. Both seem to work with most iPods and of course both will charge the iPod while it sits in place playing or not providing you have mains power. Similar products but aimed for slightly different jobs.
Buy Now!
Pure i-10 dock
£29.99 from Amazon


Gear4 ProControl AV
£48.92 from Amazon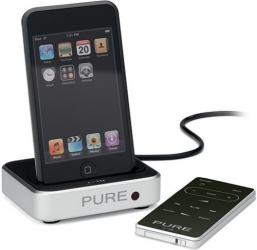 click image to enlarge
Pure i-10
When this arrived it was a shock – as I had not asked for it – but mainly because it was a new departure for Pure. There are certainly the best known name in DAB radio and indeed certain of there units do have docks.
Pure EcoPlus is their stab at saving the planet. Reduced power consumption in both operation and standby, materials from sustainable sources and or recycled. Less packaging and components selected to lessen environmental impact. More details at www.pure.com/ecoplus.
The dock itself is 7.5x7.5x2cm silver grey apart from top. The power adapter is one of those with both a European and UK plug end to clip onto the adapter. A quality 3.5mm jack lead is provided and sad to say a 12 button remote control. All this in a moulded cardboard sleeve (no doubt recycled) under this is perhaps the most important component a box containing no less than nine dock sleeves.
iPod 4th generation 20GB or 40GB. iPod mini 4GB and 6GB. iPod nano 1st generation 1G, 2Gb, 4GB. iPod 4th generation (colour display) 20GB, 40GB, 30GB, 60GB. iPod 5th generation (video) 30GB, 60GB, 80GB. iPod nano 2nd generation (aluminium) 2GB, 4GB, 8GB. iPod classic 80GB and 160GB. iPod nano 3rd generation (video) 4GB and 8GB. Finally the iPod touch 8GB and 16GB.
There is an instruction sheet in six languages but I doubt anyone will need more than the illustrations to set it up. The Pure i-10 will work with not only all Pure units via the 'Aux' socket but any powered speakers with an 'Aux' socket or for that matter most Hi-Fi and audio separate systems providing they have a 3.5mm jack input.
As you would expect from Pure this is a quality piece of kit right down to the gold plated 3.5 jack lead. The Pure i-10 is available for £23.99 from the first link below.
http://www.amazon.co.uk/gp/product/B001HBIXSW?ie=UTF8&tag=gadge0a-21&linkCode=as2&camp=1634
http://www.pure.com/products/accessory.asp?Product=VL-61119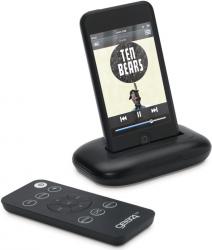 click image to enlarge
Gear4 ProControl AV
Gear4 have a range of units that include iPod docks but this is sold as a one stop dock to allow connection to all your devices and includes all the cables you may need to do so.
In the box you get the ProControl AV, Remote Control, AC Adapter, AV Cable, SCART adapter, Sync Cable and five iPod docking adapters according to the box. The manual (five pages in English) says six docks. Touch, iPhone, 2G nano, 3G nano, classic 80GB.video 30GB and classic 160GB/video 60GB/80GB.
The dock is black 10x6.5x2cm just like the unit above you are unlikely to need more than the illustrations to get the unit working. The SCART adapter will allow you to play your output through your TV if it does not have the right audio/video connections as almost all TV's now have a SCART socket.
Like the unit above it has both European and UK plug ends to clip onto the power adapter provided. The front of the unit has the infrared port for reception of the 12 key remote control. The rear has not only the DC input but the line out and mini USB port. The lead for TV connection has a 3.5mm jack on one end of the lead going to three plugs that either connect directly to a TV or into the SCART socket adapter provided.
The one thing missing is a straight 3.5mm lead for those trying to output audio to a set of speakers.
Doing my Internet searches found the Gear4 ProControl AV at a best price of £48.92 from the first link below, this includes free delivery.
http://www.amazon.co.uk/gp/product/B001C8XYSE?ie=UTF8&tag=gadge0a-21&linkCode=as2&camp=1634