i-Station Rotate from Logic3

Published 12 Jan 2009 Author
petew
I've reviewed a number of iPod docking stations over the last couple of years. This one has an extra twist to take account of the latest range of video capable iPods.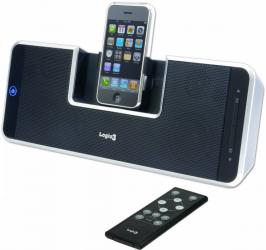 click image to enlarge
Technology has marched on allowing Apple to evolve the iPod. From the first generation through to the latest the iPod has progressed from simple music player to a capable multi-media player. While many of the latest iPods are video capable this facility is most evident on the iPod Touch, the new iPod Nano and, of course, the iPhone. While there are plenty of iPod speaker systems out there, manufacturers have thus far been slow to adapt their products to take into account this move to video - maybe assuming video on an iPod would only be of use on the move (so no need to dock) or that the video capability is more of a gimmick than a real feature. As an avid fan of video on my own iPod Touch I'm more than happy to see this situation change!
The i-Station Rotate however is aimed squarely at these video products and at those who recognise the benefit of portable video (anyone that has kids or has to travel on business?).
Visually the i-Station Rotate looks much like a number of other iPod docking stations sporting the usual black styling with centrally mounted docking cradle and measuring 315 x 55 x 120mm (WxDxH). Acoustically it is excellent for a product in this price range. Output power is 10W total delivered by a 50mm mid-range and one 22mm tweeter per channel (5W per channel).
Power is either provided by the 5V mains adaptor included or by 4xAA batteries, which do allow the product to be used on the move (ideal for entertaining the kids on that long journey).
The problem with video on the iPod range is how it interacts with the user interface. The iPod Touch general navigation requires a 'portrait' orientation while watching video requires you to rotate the iPod through 90°. Apple didn't really consider the impact of their use interface on those that like to dock their iPods! It is the solution to this problem that provides the 'Rotate' part of the product name. The iPod dock is cleverly arranged such that whilst still docked the iPod can be rotated through the required angle to switch between command menus and video.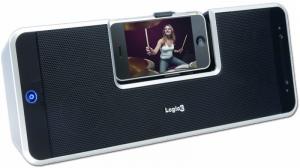 click image to enlarge
With a docked iPod Touch rotated for video viewing the iPod is flush with the top of the i-Station and the combined system provides excellent audio and video playback.
The only controls on the product itself are a power switch and volume up/down buttons. All other functions are accessed either via the iPod or from a provided remote control.
Although video on the iPod is pretty cool it's only really suitable for individual viewing. For those occasions where you have access to a larger screen the i-Station Rotate provides a composite video out connector. This worked with no problems, although don't expect HD video on a big screen from your compressed iPod videos, however the result is certainly watchable.
The only other connector on the device is for line-in, allowing you to feed in a separate audio signal should you so desire.
Summary
The i-Station Rotate provides excellent crisp, clear sound that is the match of any similar classed product I've tested. For those of you, like me, that enjoy video on their iPod the 'rotate' capability is an excellent idea. Although the resulting screen is quite small I was quite happy playing back a favourite programme transferred to my iPod while I prepared dinner.
Checking prices I find the Logic3 i-Station Rotate is now available for £69.99 including delivery from Amazon available for $129.99 including delivery from Amazon available for £69.99 including delivery from Amazon which makes it very good value for money when compared with other iPod docking stations we've reviewed.
http://www.amazon.co.uk/gp/product/B001IBDA1G?ie=UTF8&tag=gadge0a-21&linkCode=as2&camp=1634
http://www.amazon.com/gp/product/B001IBDA1G?ie=UTF8&tag=gadge0a5-20&linkCode=as2&camp=1789