iLuv i399/i398 stereo audio system for iPods

Published Dec 19, 2008 Author
petew
Review controls
Physically the largest iPod docking stereo system I've reviewed the iLuv uses this size to good effect to provide sound worthy of your music collection.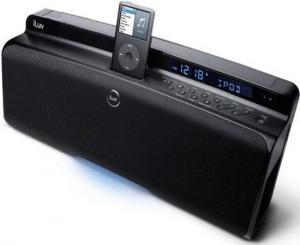 click image to enlarge
Measuring 500 x 200 x 180mm (WxHxD) the iLuv i399 is by no means a shrinking violet. Despite it's size and indeed weight (around 6Kg) the manufacturer has decided to provide battery power as an option. I'm not entirely sure why you'd want to be lugging this around or using it away from mains power, however should you wish to so do you'll have to acquire eight 'D' sized batteries.
A further set of 2xAAA batteries can be installed to maintain the clocks time when mains power is removed - ideal for the environmentally consious among us who try to switch everything off at night.
The iLuv has a centrally positioned docking station that will cater for all iPods from fourth generation onwards. For older iPods and for those with an additional audio source the system provides an auxillary input via 3.5mm jack socket.
A built in FM tuner provides radio access. Reception is via a fairly short 40cm aerial. Despite the size of the aerial however reception was very good. providing decent non-hissy stereo on stronger FM channels. The system provides 20 presets to store your favourite stations, although you'll have to step through the list to get to the one you want.
There is also a head-set output, which is of more interest while listening to radio as a head-phone output for use with an iPod is somewhat redundant.
Finally the i399 comes with an interesting 'BluePin' connector. This is rather an interesting design in which you can optionally attach a 'BluePin' adaptor that then provides you with BlueTooth access to suitable external media players - notably phones. The difference between the i399 and the i398 is this BluePin connector which is absent on the i398.
Unfortunately despite being provided with an i£99 my review unit has not been provided with a BluePin adaptor and so I'm unable to test this feature. I would say that the design of having an external BlueTooth adaptor seems a little strange.
Sound is produced through 2x10W tweaters and a 25W sub-woofer. Quality of sound produced is very good, as one might expect from such a sizeable speaker configuration.
All the controls and display are to the right of the centrally mounted iPod Dock. The display is a reverse-video back-lit LED that displays a wealth of basic information including the time and current audio source. Buttons provide control of all device functions. A simple remote allows you to control the device from afar. A number of the buttons on the unit control the Bluetooth interface allowing you to pair your remote devices with the iLuv and to effectively use it as a hands-free speaker phone.
A visually pleasant blue 'glow' emanates from under the device. This will pulse in time with the music, however for it to function well the volume needs to be set very high. You can of course switch this light of completely should you wish.
Given the built in clock it's a pity there is no way to set a simple alarm which would have allowed you to wake to your favourite tracks - or station.
On the whole the iLuv produces one of the best sounds I've come across - but the cost is in terms of size. It just about comfortably sits on my deep windowsill here at GadgetSpeak - but it does tend to dominate the room.
If you're happy with the size and want good quality sound then the iLuv i398/399 is worth a look. It's best suited to a large room with space to do justice to the sound though.
The iLuv i398 (version without the BluePin) is available for £144, which isn't unreasonable. The only place I've found the i399 is on Amazon at a frankly ridiculous price of £326.41 (the price on iLuv's own US shop is $229.99!). On that basis my value Smilies are awarded for the i398.