Orbitsound T3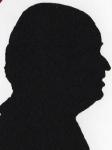 Review controls
Around five weeks ago (05-09-08) I told you about the Orbitsound T12, here it is its baby sibling designed for portable use and it is not much larger than a good sized iPod or MP3 player itself.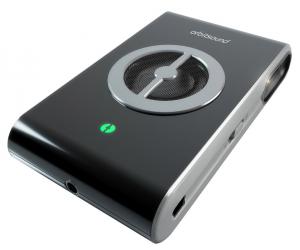 click image to enlarge
The Orbitsound T3 is 10x6x2cm black in colour with silvered sides is weights around 115grams. 8 watts may not sound a huge amount of power but it is designed for personal or small group use. It works just as well with an MP3 player as it does with an iPod.
Going round the controls and connections, the face has the main speaker with small ones on either side. The top has anchor point for neck/wrist strap. The base has a 3.5mm jack plug for connection of MP3 or iPod. The front has an LED (initially red) but goes green after charge when in use. The left side has a slider to turn the unit on and a micro USB slot that you charge it from. The right side has a three position slider called airSOUND the positions are off, 'N' and Max.
It comes with a double sided sheet of paper in three columns with adequate illustrations.
So what is airSOUND? With the slider switch in the 'off' position you hear output as you would from any small speaker. The battery life between charges from the Li-Ion battery is just over ten hours. In the 'N' position you hear a more or less normal stereo with sound from the main speaker on the face and some from the small side speakers.
Now the biggie with the switch in the 'Max' position you hear a far wider separation of sound certainly far more than you would expect from a portable unit.
Using it outside I would place it on any solid surface and while you should not get it wet you should be able to wipe it should it be required with a damp cloth.
When I first took it from the box and switched on I of course got the red LED however once I had plugged it in to charge I found it worked without problem but of course you are tethered to the USB lead. I left it charging for several hours and even at the end it still showing red but as soon as I switched it off and disconnected the USB lead and then switched on again it was green.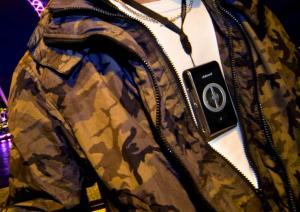 My first test was a continuous use one and it lasted ten hours and twenty three minutes. I have used it in various shorter periods since and each time I got more than ten hours. The charge time (not in use) is two hours.
Most instruction sheets seem to cover more mustn't instructions but one here caught my eye suggesting that anyone with a heart or other condition affecting the chest area should not wear it round the neck until they have taken medical advice.
I tried it with two different MP3 players and an iPod and I was happy with the sound from all of them.
It is not essential to have a PC to charge the Orbitsound T3 as it is supplied with a micro to normal USB lead and also a normal 13amp plug head that has a USB connector on the side so you could go away with your portable music (iPod or MP3) and a means to charge it the Orbitsound T3 and providing there is a mains socket you can charge it overnight and have music all day everyday while you are away.
This is more than a small portable speaker it is very different to its larger sibling mentions in the introduction but they are intended for totally different purposes. The T12 is a static device make to give amazing sound for a whole large room (superb with a normal TV) and the T3 reviewed here for anywhere on the move or at your desk. I mentioned the mid range model the T6 in my review of the T12 but I have recently been told that it has been delayed till the 'end of the year'.
Doing my Internet searches currently draws a blank as this is very new but it is available from the Orbitsound site below for £79.00 http://www.orbitsound.co.uk/shop/