Roberts solarDAB

Published Sep 29, 2008 Author
petew
Review controls
Roberts have announced a number of energy efficient radios in the past. The 'solarDAB' combines energy efficient design with an integral solar panel to augment traditional mains power.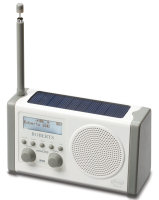 click image to enlarge
The solarDAB is distinctive in a number of ways. Firstly it has a somewhat unusual design, partly due to the need to incorporate the solar panel in the top of the device. Aesthetics are always somewhat subjective, although I did find the design grew on me over a couple of weeks.
The second somewhat unusual aspect is the lack of an FM or analogue tuner - this is a DAB only radio. This is in many ways a vote of confidence in the DAB system after some poor press earlier in the year. For those that live in a good signal area this isn't going to be a problem - and people are certainly not being put off buying DAB!
Physically the solarDAB measures 190(w) x 110(h) x 80(d) and weighs just under 700g. The flat faced top houses the solar panel that is used to charge or to augment the internal rechargeable battery pack. The battery-pack is a shrink-wrapped 3xAA, 2000mAh unit that can be replaced should that be necessary - Roberts suggest the battery pack has a two year lifetime (no need to throw the radio away because the batteries reach their end of life!). Replacement packs do however need to be purchased from Roberts and I've been unable to find details of price.
A full charge from these batteries is stated to give around 27 hours use (at moderate volume). Anyone familiar with the usual energy hungry DAB technology will know just how impressive it is to get this duration from 3xAA batteries!
On to the solar panel. In theory this can supply enough power to run the radio at 'moderate' volume without draining the battery - and in very good light will use surplus energy to charge the battery at the same time. In practice the amount of light and the quality of that light will vary considerably. This is particularly an issue indoors where even single-glazing causes solar panel efficiency to significantly degrade. A simple built in bar-meter on the LCD panel will help you locate the radio for the best results and give you an indication of how well the panel is working. Less than half the bars on and you're draining the battery. More than half and you are charging the battery. Those with energy efficient double glazing, as we are, will get the worst results. In this situation on a bright day I couldn't find a place in the house that got above half-way, despite being at almost 100% outdoors. The best I could manage was about 2 out of 10. This isn't necessarily a problem - leaving the radio on a bright indoor window-ledge when not in use will still charge the battery - just slowly. The solar panel is however a bit of a gimmick unless you happen to work outdoors!
I was unable to find out how long a full charge by solar power alone would take. By experimenting it appears to be a long time, which isn't a surprise. Solar panels are actually very inefficient. Luckily we've had a few very hot/bright days recently (September) and leaving the radio switched off, outdoors with a flat battery for around five hours only generated enough power to listen to the radio for around 90 minutes.
In use over a period of about 3 weeks - listening a few hours a day I only had to charge the battery pack via mains on one occasion. The freedom of the rechargeable battery made this a much better choice for people that are moving from place to place as they listen.
Sound is provided via an 80mm, 1W speaker which provided excellent quality and volume.
The final somewhat unusual choice on this product is to include a screw-on telescopic aerial. There is a snap in housing for this on the rear of the device. Pull it out and screw it on top. While this worked well and provided good reception there is no option to tilt the aerial - the only option is vertical making it difficult to situate the solarDAB on a book shelf or other location with restricted height.
Line-in is thoughtfully provided allowing you to play back your MP3 player through the internal speaker.
The Roberts Solar DAB is available in a range of colours (white, black, pink, red or green) - the sample unit I'm reviewing is white.
The RRP from Roberts is £79.99, although I've found it for £72.94 including shipping on Amazon, which makes it somewhat expensive when compared with other DAB radios.