Mustek PF-D800 Digital Photo Frame

Published 27 Dec 2007 Author
petew
This LCD picture frame boasts a wealth of features that go beyond simply showing your favourite pictures.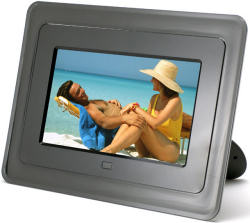 Apart from the obvious ability to show a collection of images this frame includes stereo speakers with MP3 playback and the ability to play back video.
Let's start with the basics though. The frame itself is a fairly hefty 275x200x30mm (WxHxD) which hosts an 8" 16:9 aspect ratio LCD screen. The frame only appears to be available in one finish - black shiny perspex. The frame around the screen is split into two parts - a narrower inner bevel and an outer bevel. The outer one seems to be entirely cosmetic - and looks like it should be removable, but it isn't. The choice of shiny black perspex may look great in some environments but it easily shows up any marks and finger prints. Personally the frame is too wide which has the effect of making the 8" screen appear smaller.
The LCD screen has a resolution of 800x480 pixels which produced reasonable results. The wide-screen format (16:9) may appeal to some, although it's not a common format for digital cameras and so viewing most images meant black borders down each side of the image. It's also worth bearing in mind that the usable screen area for a 4:3 standard camera image once the left/right strips are removed is the equivalent of a 16cm / 6.5" screen. My preference would be for standard 4:3 ratio so that the whole screen can be used.
The deep rear of the frame contains all the electronics along with an array of interface options. This frame has now internal storage of it's own but instead accepts external media in various formats (SD, MMC, MS, MS Pro, MS Duo and CF). I'm testing with a 1Gbyte SD card.
Other connections comprise power, headphone socket and video out. There is a separate on/off switch on the rear and a bank of six buttons on the top of the 'bulge' that provide full control over the device. Buttons around the back are of course fairly non-intuitive and I found them particularly hard to get use to - continually switching between looking at the screen and then tilting back the unit to find the right button. Lucking the product is provided with a comprehensive remote control that lets you do everything you need to do. I seriously suggest ignoring the buttons and sticking to the remote!
There is no USB connection so you'll have to make other arrangements for getting your content onto your media card of choice - either an external card reader or via your camera/phone.
Power is via an external DC power adapter, which has a somewhat odd design, but does the job. As with most of these products although it can be wall mounted - you'll then be in the situation of having to hide the cable.
Media Playback
The PF-D800 provides slide-show, MP3 (sound) and video playback.
To install content simply copy it to your media card and plug the card into the frame. The software searches the entire card and locates all the images so it doesn't matter which directory structure you choose.
In slide-show mode you have the usual choice of image transitions including scrolling, fading, wipe etc.
The PF_D800 video support is limited to Motion JPEG (M-JPEG), which is a reasonably common format with digital cameras. I managed to play back a number of short video clips created in AVI format quite successfully with the product. Support for other video formats would have been a benefit - the lack of MPEG support means you're not going to be able to download your favourite videos to watch away from the TV!
You can't unfortunately mix the odd video into the slide show - you can have an image or a video slide-show, not a combination.
Music is supported by MP3 playback. The sound is reproduced through a pair of speakers providing basic stereo support. the speakers are pretty small and lacked any significant bass output. It's not going to replace your stereo. It is adequate to provide audio output from your digital-cam captured videos though.
If you're plugging your memory card in straight from your camera then you will have the option of rotating images through 90 degrees.
Finally there is the option to connect the picture frame to a TV with a video-out connection. Again, I don't think this is going to be a particularly common requirements, although I have one particular aged relative that may well appreciate the images being blown up onto a 32" TV!
Summary
This is a solid weighty picture frame offering most of the features common to this class of product. Note that although this claims to be an 8" screen the effective size if your content is standard 4:3 is just over 6" so in this case a more practical and cost effective solution would be a 7" 4:3 frame.
On the plus side the comprehensive remote control makes setup and configuration somewhat easier than other devices.

Price seems to be around the £85 mark, with one of Amazon's partners coming it at £79.99, which seems to be middle of the range for 8" frames, including some standard ratio frames. 7" frames are typically priced in the £40-60 range.