Functional but Expensive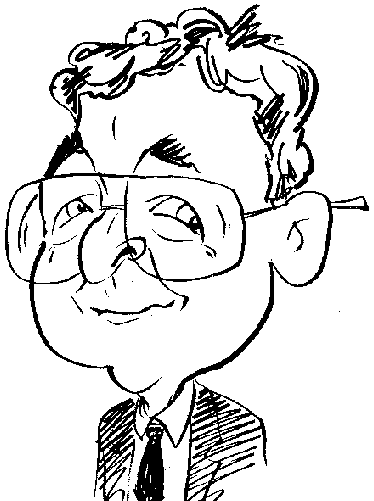 I've used a set of Yamaha speakers for many years on various computers and was keen to check out the company's latest portable speaker system.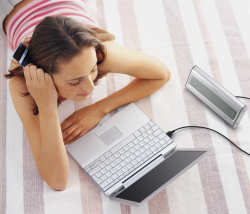 Whether your music is stored on a notebook or MP3 player, there will always come a time when the audio output quality could become an issue. While a good set of headphones might suffice in some circumstances, this will not always be the case especially when there is a need to share with others. In such a situation, an external speaker system might be more appropriate. One possible candidate is the Yamaha NX-U10.
Available in either sleek black or silver, the NX-U10 adopts a rounded rectangular shape. The unit measures 25 x 10 x 3cm (W x H x D) and weighs 0.5Kg which means it should not cause too much of a strain when transporting this kit. An on/off switch is located on the left side of the device while a volume scroll wheel is on the right. A mesh grid running across the front of the NX-U10 reveals the stereo speakers delivery the audio output.
Setting up this speaker system proved to be extremely simple and straightforward which was rather fortunate as the review unit was supplied without any documentation. There was not even a list of content to help. Even the packaging provided little assistance as any text was in Japanese - one of the many languages with which I am not familiar.
Along with the speaker unit, the box contained a USB lead; power plug with USB connection socket; battery holder; and a 45cm lead for linking to an audio source such as an MP3 player. From this list you might be able to work out that the NX-U10 has the functionality to be powered in different ways. Actually you have a choice of three methods that all relate to the battery compartment located at the rear of the speaker system.
Secreted in this compartment is a mini USB socket connection. This socket can be used, in conjunction with the supplied USB lead, to connect to a port on a laptop or to the mains using the special power plug provided with the product. The third method is to load the battery holder with four AAA batteries and then slot it into the compartment. As well as providing multi-power connectivity, the compartment's plastic lid can be used to prop up the unit at a slight angle to help with audio output.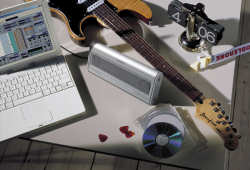 When connected to a notebook via USB, both power and audio will use this connection. However when using mains or battery power, and when linked to an MP3 player, you will need to use the provided audio lead to make the necessary clink to the appropriate headphone socket. I was expecting that using the NX-U10 would result in a hit on battery life. However tests revealed that there was a marked similarity when using and not using the speaker system.
In order to ease any issues with regards to output quality, especially when using the USB lead to draw power and audio output, Yamaha makes use of its PowerStorage Circuit and SR-Bass technologies. PowerStorage Circuit acts as an internal power enhancer in order to boost that which is provided by the USB connectivity so that 10W per channel is pumped out. SR-Bass (Swing Radiator Bass) uses a passive radiator to produce a deeper and more powerful bass sound.
The NX-U10 is capable of producing good quality output at various volume levels. This speaker system also has the advantage of supporting both Windows and Mac platforms plus a range of other devices that includes MP3 players, PMPs (Personal Media Players), game consoles and portable DVD players. However this functionality and performance does not come cheap. Yamaha has priced the NX-U10 at £149 which could well put off many users.
http://www.yamaha-uk.com/personal_audio/?product_id=175&category=personal_audio