Bright and Colourful Iddy-Biddy Speakers for your MP3 player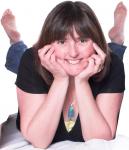 Review controls
Back to Uni, renting a flat, camping, trekking, or just moving around a lot. Here are some MP3 speakers you can take anywhere!
Buy Now
i-Station Traveller
Speakers
Including shipping
Click here to see them all!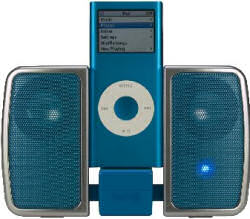 The i-Station Traveller is the smallest and most vibrant edition to the i-Station speaker range, and the first of quite a few we'll be reviewing on Gadgetspeak.
The i-Station Traveller is as small as my purse and folds to lay flat - so it meets its claim of being easy to put into a handbag or (reasonable sized) pocket. These speakers are most obviously aimed at iPOD users as it comes in all the latest iPod colours: pink, red, blue, green, silver and black, Whilst most useful for iPOD users, the speakers pull out to accommodate other MP3 players of widths up to 6.5cm. The centre section flips back for the MP3 player to sit on. Our MP3 players come from Sony and Computer Supermarket, and both could fit onto the speakers. However, the Sony is a very wide short unit, so it had to be put in on its side! This also meant that the buttons on the top (mode and volume) of the Sony MP3 player butted up against the speaker - so fiddly to use once fitted into the speakers. My Computer Supermarket MP3 player fitted the unit more easily and as all its controls are on the front face, there was no issue with using these once plugged into the speaker. There is no volume control on the speakers, so you need to sort this from your MP3 player
Fiddliness aside for non-iPOD users (which I'm sure won't be a probem for them) these speakers look neat, trendy and colourful. They are easy to use and pack into small spaces. And perhaps most importantly the sound quality is really quite good. You can easily use these speakers in a reasonable sized room - but they probably wouldn't compete at a party!
These speakers come with 4 AAA batteries, but there is no mains adaptor. So you will have to rely on remembering to have spare batteries for your speakers! There is a light on the front when it's on, so you shouldn't be able to leave on without noticing.
With an RRP of £19.99, these speakers are easily in the pocket of money strapped university students, and almost pocket money priced for teenagers. They would certainly make a good stocking present (more on stocking presents later in the year!) Nice to take away on holiday - especially if backpacking, camping and caravanning because of their mini-compact size.
In summary: pretty looking, easy to use, great value for money and sound for their size!
Available from amazon with varying prices from £9.99 including shipping. You can see all the colours on the following link :
http://www.amazon.co.uk/s?url=search-alias%3Delectronics&field-keywords=logic3+i-station+traveller