Grundig PSW 5000 Wireless Outdoor Speaker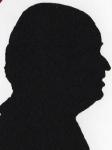 Review controls
This is a surround sound speaker that can be used indoor or outdoor and while it is not intended to get wet it can – I am told – withstand the odd shower, also it can run on batteries or mains.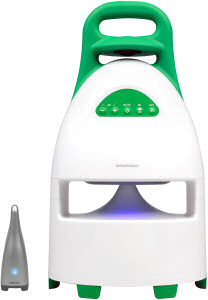 It looks a bit like a garden sprayer or even one of the pull along type vacuum cleaners on it's end - however it is a single speaker that radiates surround sound. It's overall dimensions are 40cm tall, 22cm wide and 20cm deep. In fact it is nearly circular in shape. The overall weight (without the power brick) is around 2.4 kilos and is easy to move. All the controls are sealed so the odd light shower it should survive.
I suspect most will run it on mains power and a good length of lead from the rather heavy power brick makes this easier. Should you need to run it on batteries you will need 8x'D' cells.
The unit is white with rather garish green feet, bung plugs and carry handle that raise it around 2cm above the ground. The only control on the units base is a toggle switch to choose between 1, 2, or 3 wireless channels. Towards the top of the unit just before the carry handle are the only other controls. + or - for the volume, on/off, UBS (for base boost) and light so should you wish it can be illuminated by two purple lights.
There is a small grey 12x14x4cm wireless sender box that has the same 1, 2 or 3 channel setting and this would be located close to your hi-fi or MP3 or even DAB radio (I tested it with all three) or any other audio device that either has a 3.5 jack socket or the standard red/white jack sockets. The Grundig unit is supplied with both sorts or leads. The wireless sender box has it's own - mercifully a lot lighter - power brick.
The RF transmission frequencies are stated as 863, 864 and 865Mhz. I managed to use the surround speaker within around 10 metres of the wireless sender so you can enjoy your music and or radio without having to move the hi-fi into the garden.
The mains brick lead plugs into the base of the unit and while this does keep it reasonably dry I personally found the adapter fell out a couple of times when moving it. Of course you should position it before plugging in the mains but I would have thought a better position could have been found to insert the mains power.
Although it takes in the stereo signal the 'surround' output is generated through a 15cm bass speaker and a 2.5cm treble speaker. While the sound (within the 10 metres) was acceptable over longer distances or even slightly less through several walls deteriorated and was not acceptable.
I tried a number of CD's that I know well and I choose them for the stereo separation that or course disappears so it gives a different listening experience.
Certainly not like any other surround sound experience but probably fine for music to dance to in the garden should we ever get any suitable weather. The wireless option enables your hi-fi to be in almost any room in the house and perhaps it would work for say listening to a radio play in the bath.
Doing my Internet searches found the Grundig PSW 5000 Wireless Outdoor Speaker for a best price of £149.97 from the link below. However the UK Grundig site (second link) have it for a more enticing £99.99.
http://direct.tesco.com/q/R.202-0105.aspx
http://www.grundig-uk.co.uk/productdetails.aspx?pid=GUPSW5000&language=en-GB