Oasis from Pure Digital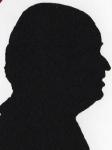 Review controls
This is described as a waterproof DAB radio. Certainly it is ideal for use in a bathroom or other damp environment. The shape is novel with inbuilt handle and for good measure the sound is good as well.
Buy Now
Pure Oasis
Weatherproof DAB Radio
£89.99 from Amazon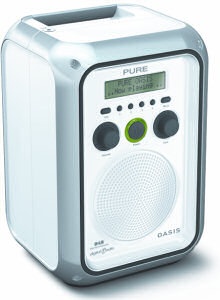 The Pure Oasis DAB radio is truly portable, meaning you do not need mains, it's internal battery is capable of running it for more than twelve hours between charges. However I think you may think twice - unless you are into body building - about carrying it around while you go for a five mile walk.
The dimensions are 15x14x22cm and it weights 2.6kilos. Easy enough to move - even for a child - but not something to hold for an hour or so.
Unlike almost all DAB radios I have previously looked at this has a 15cm stump aerial that you screw into the top of the unit. Normally these units have an extending chrome rod aerial of six to eight pieces that extends to about 70cm. I was pleasantly surprised that reception was excellent and better than most rod aerials in parts of the house. The stump can be removed and clicked into a storage area in the rear of the unit when not in use. The top of the unit also has a handy carry handle cut into the units shape.
This has only a mono speaker mounted on the lower front of the unit - another reason it's ideal for the bathroom - but you can use the headphone socket to connect to external speakers and then you do get true stereo.
The front has three large rubberised buttons and six small rubberised push buttons. There is also a two line LED display. The only other sockets are on the right side, Headphones, Aux In, USB and the Mains Adapter. All these are behind fairly substantial rubberised bungs.
I do live in a reasonable reception area for DAB, to check reception in your area you can enter your postcode at www.ukdigitalradio.com to check for likely reception.
Tuning was a matter of switching on and letting it automatically scan for stations. Then rapidly looking to turn the volume down as 1Extra is not to my taste. The autotune found 52 stations and I was able to get sound from them all, not all these broadcast 24/7.
There are only four presets but how many stations do you listen to regularly say more than once a week? Setting the presets is probably the easiest of any DAB radio I have used. Select the station you want to place on a preset and press your choice of preset button for more than three seconds and it's done. To manually change stations is one of the larger rubberised knobs and the alphabetised list is the default, a nice click takes you to the next station and going through all 52 can be done in less than a minute.
I got over twelve hours every time when running on batteries the best was twelve hours twenty minutes. Of course you can run on the mains and charge while in use. From total discharge I found it took around ten hours to total charge even when switched off. So use all day and charge all night, a bit like most mobile phones.
The stated price for the Pure Oasis is a penny short of £120, although it is available from Amazon and their partners for as little as £89.99 :
http://www.amazon.co.uk/gp/offer-listing/B000CDF6D6

http://www.puredigital.com/Products/Product.asp?Product=VL-60775