Canon PowerShot G15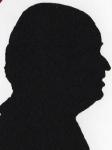 While this is a Digital Camera it makes an excellent bridge unit for those intending to make the jump to a DSLR unit as it has that rarely seen item a viewfinder as well as a decent TFT screen so all groups are catered for.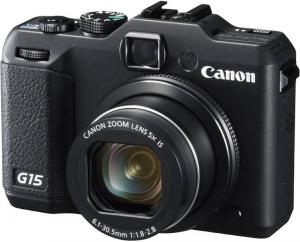 click image to enlarge
The Canon PowerShot G15 compact digital camera measures 11x4x7cm when switched off, you can add another 3.7cm to the middle figure the width. It weights 350grams.
It does have a pop up flash unit but it also has a shoe so you can attach an external flash as well. The pop up flash is on the top left and is controlled by a slider button, next the shoe which is also the highest point of the unit, next two overlapping wheels the higher one an eleven position offering that goes from Auto to Manual and all points in between. The lower one gives a quick white balance control, to the right of this on/off button and in front of this the shutter release with telephoto / wide angle control around it.
The left side has an anchor point for a neck strap, right side ditto as well as a door that hides power, AV and HDMI sockets.
The face has the viewfinder view, the lens which can never be nearer than 5.5cm from the pop up flash and a scroll button that required me to look up its task in the manual which is found on one of the two accompanying CD's. The reason I could not calculate its task is that until you have designated it one it does not have a task. So if there is something that you normally have to delve into menus to change you can set/change it from this control. The base has a tripod screw and a door behind which goes the solid battery and any SD card you might use.
Lastly the back of the unit which is dominated by a 6.7x4.7cm TFT. Above this is the viewfinder with its eye adjustment, printer button and review button. To the right of the TFT is a rubberised thumb anchor and quick video capture. Two rows of two well marked buttons are below this split by the ubiquitous five position joystick that gives control to the various menus.
There are five still image capture modes 16:9, 3:2, 4:3, 1:1 and 4:5. Each of these can be captured in one of four resolutions, L, M1, M2 or S. So a total of twenty different image sizes from 12MP to less than VGA.
As with almost all Digital Cameras this can capture video it has three modes 1920x1080, 1280x720 and 640x480.
12MP may seem small to some but the quality of the image is decided by its sensor and not by the number of pixels it can capture. This unit can zoom to 5x optical which is plenty for most normal subjects and anything more would carry the danger of shake unless you are using a sturdy tripod.
I was perfectly happy with images I took both with and without flash. When in Auto mode the only flash options are 'Off' or 'Auto' so no possibility to force flash.
Among the features this unit has is full manual control, the ability to capture RAW, Smart Auto and Face ID, both the last two are excellent.
For other features check the second link below.
The Canon PowerShot G15 is available for £329.99 with free delivery.
http://www.amazon.co.uk/gp/product/B009OMGYWI?ie=UTF8&tag=gadge0a-21&linkCode=as2&camp=1634
http://www.canon.co.uk/For_Home/Product_Finder/Cameras/Digital_Camera/PowerShot/PowerShot_G15/