Moving Up From Point And Shoot

Beyond Point-and-Shoot which is subtitled "Learning to use a digital SLR or interchangeable-lens camera" is a very useful book that provides a large amount of useful photographic information without assuming that the reader has any previous knowledge. In addition to its target audience, who will find it invaluable, it provides many of the answers to questions that one has not dared ask and so will be of value to anyone who wishes to have a better understanding of photographic principles.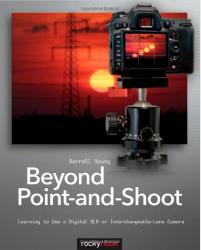 click image to enlarge
Written by Darrell Young and published by rockynook it addresses topics concerned with the camera itself ranging from pixels and the size of the sensor through to how to choose what lenses will suit your needs as well as explaining the underlying technologies and showing how they can be used so as to achieve the desired results. Although Young admits to being a committed Nikon fan, and Nikon figures heavily in this book he stresses that, honestly, brand doesn't matter.
He explains how lenses of differing focal lengths have different angles of view and will give different results and then looks into how one should choose a lens for any particular application such as portraiture. He provides illustrations of various forms of distortion that can arise -- both due to limitations of the lenses themselves and when a lens is used inappropriately.
He devotes a chapter to understanding exposure control in which the interdependence of ISO sensitivity, lens aperture and shutter speed are covered in some depth. Then having provided the foundations, the following chapter covers the way depth of field is influenced by aperture as well as the importance of selecting the appropriate shutter speed to prevent (or obtain) blurring.
These two chapters together provide an understanding of both the theory and practice to enable a photographer to apply the techniques. Then, while pushing to one side camera modes such as Portrait, Sport, Landscape and Night-time etc. he covers the importance of the main mode controls: shutter priority and aperture priority as well as pointing out that there are occasions when auto exposure is appropriate.
The penultimate chapter in the book covers image quality and image formats. JPEG, TIFF and RAW formats are explained as are their implications for subsequent manipulation and long-term storage. In it he argues for the use of RAW as, despite being larger than compressed JPEGs, it provides far greater scope.
Histograms, colour balance and white balance, are topics which are all too often glossed over by many people who regard them as being over technical. The explanations given in the final chapter helped to demystify them and will give a better understanding of these topics.
Irrespective of whether one is aiming to buy a sophisticated camera, or already has one, this book (ISBN: 978-1-933952-95-6) provides a large amount of useful information in a readily digestible form. Although priced at £22.99, it can be bought on Amazon for £11.67. In view of the information contained, and the way it is usefully presented, this is a bargain.