A Small Pentax Camera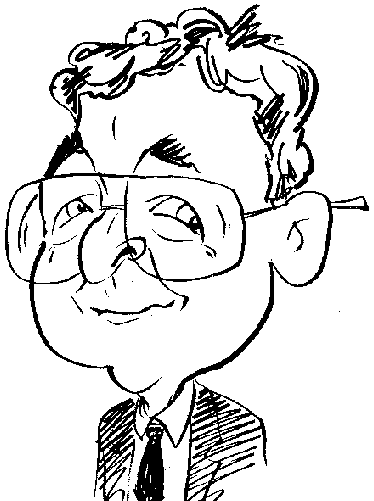 Review controls
The Pentax Q has the appearance of a compact camera yet it offers the user an interchangeable lens facility.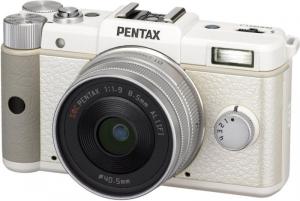 click image to enlarge
At its launch, the Pentax Q was described as having the smallest and lightest camera body that was capable of accepting different lenses. With dimensions of 95 x 57 x 32mm (W x H x D) and a weight of just 190g, admittedly without a lens attached, you could understand how this claim could be justified. The Pentax Q is available in a choice of black or white featuring a faux-leather coating. The review sample was the black model and it came with a 3.2mm f/5.6 diagonal fisheye lens which certainly imposed some limitations when it came to testing the product.
The "Q" designation adopted by this camera model refers to the new Q lens mount technology. Slightly smaller than Pentax usual K-mount offering, the Q-mount still enables quick switching between any of the five lenses in this range that you might have available. According to Pentax the design of the Q-mount system has allowed it to eliminate an optical viewfinder, mirror box, focusing plate and AF sensor without compromising on image capture quality.
Dominating the rear of this camera's small body is a 3.0-inch colour LCD monitor capable of displaying 460,000 dots and delivering a good quality viewing experience once finger smears have been removed. While traditionalists might feel short-changed by the lack of a viewfinder option (one is available as an optional extra), the monitor is more than a capable replacement.
Positioned on the right side of the monitor are various controls which, not surprisingly due to the camera's dimensions, are on the small size. There are buttons to set the EV compensation, delete images plus call up the menu and info options along with a four-way controller with a central OK button. This controller lets you navigate through the various menu options plus access ISO, white balance, flash and mode shooting settings.
Ideally positioned on the top right section of the camera, for the greater majority who are right-handed, are dials for setting the shutter speed and selecting the capture mode plus the shutter release button. There is also the on/off button which is mounted flush to the camera's body and requires a response time of 2 seconds before the camera is ready for action. A button for playback mode and a release catch for a built-in pop-up flash unit are located on the top left portion of the camera's body. Situated in a top central position is a hot shoe facility.
Pentax has opted to use individual concealed compartments for the supplied battery pack and a memory card which you need to provide. Situated on the right hand side is the memory card compartment. There is support for any of the SD family of card formats. On the opposite side of the camera is the compartment for the rechargeable Lithium-ion battery. When you need to charge this battery it will need to be removed from the camera's body and inserted into the supplied charger unit which connects to a mains power source.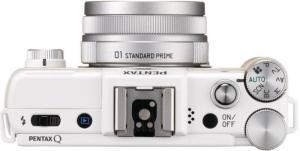 click image to enlarge
Along with the exchangeable lens, the front of the Pentax Q features a couple of controls. Occupying the seven o'clock position is a button to unlock the lens when you need to switch it with another lens. Taking up the three o'clock slot is a Quick Dial. This feature is used to switch between user-specified settings for colour, image type, filter and aspect ratio.
When taking photos you can select from a number of capture modes, exposure settings and the focus mode with which you are happiest. The mode dial on the top of the camera gives you a choice of options. You can select from a choice of Auto, Scene, Blur correct and movie plus select from four specific exposure modes that are entitled Program, Shutter Priority, Aperture Priority and Manual. There are also five types of focus methods. You can opt for face detection, tracking, spot, a 25 pixel grid or a user-selected area.
As well as capturing a single image, using continuous shooting mode to take up to five images per second or on a time delay, you can also switch to video capture mode with a choice of VGA, HD or FullHD format. Whether working with still images or video capture you could benefit from the Pentax developed SR (Shake Reduction) mechanism which automatically shifts the CMOS image sensor to offset any camera shake that is detected by the camera's motion sensor.
As mentioned earlier, the review model of the Pentax Q came with a fisheye lens which meant certain features such as zooming when lining up a capture could not be tested. I could, however, use a zoom feature when viewing images already capture. This feature works in pre-defined stapes which made it often rather difficult to create a usable image. Generally image quality and colour definition was good although colour appeared washed out when working in poor low conditions. When viewed on the camera's monitor, video clips were fine but were a little grainy when transferred to a computer.
The Pentax Q is an interesting product that certainly packs plenty of features into its small body. The retail model comes with a standard 8.5mm lens which would have been a more appropriate choice for the review process but I was not offered this option. The single lens package is priced at £399.99 while a twin lens package, which adds a 5-15mm zoom lens, will cost £579.99.