Kodak EasyShare Touch M5370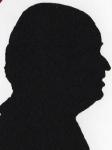 Review controls
A small digital camera from Kodak, this however is part of their idea to make sharing easier and the camera itself has a 16MP image size and comes with 5x optical zoom so can it offer nirvana of everything to everyone?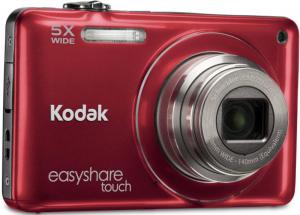 click image to enlarge
The Kodak EasyShare Touch M5370 measures 10x5.5x2cm the last figure the width expands by another 2.5cm when fully zoomed. It weights 137grams.
Mine was a metallic red and silvered face with the rest in black. The screen however is rather reflective in strong sunlight.
The face has the lens towards the right side with the bar flash mounted above and to the left it can never be nearer than 3cm to the lens. The left side is clear; the right side has a bung over the USB socket and below this the wrist strap anchor point. The base has tripod screw and a slide door behind which is the solid battery and any micro SD card you may use.
This is a touchscreen unit and so buttons are in short supply. The top has on/off shutter release and around this the wide angle / telephoto control and finally the record button when shooting HD Video. The back has the 6x4.7cm TFT screen and to the right of this two buttons, replay and share, everything else is via the touchscreen.
It can take images in x sizes, 16MP 4:3, 14MP 3:2, 12MP 16:9, 6MP 4:3 and 3MP 4:3. Video can be captured in HD 720P and VGA.
It will take a while to get used to the layout of the touch points of the screen, certain things like flash on or off etc are immediately available others like image size need an extra level of delving using the spanner touch.
While I reviewed this at the same time as the Kodak Hero 7.1 printer both are able to be used without owning the other. A lot of the images I took with this camera were printed on the Hero 7.1 but I also used another non Kodak printer and all were fine.
While you could just about have enough information in a 3MP image to get an A4 image I used 6MP most of the time. In theory anyway an image taken at 16MP should have enough information for a 30x40 inch (76x102cm) image.
Kodak are mainly known for small pocket cameras and this is another, however they now make sharing easier by allowing you to connect directly to social networking sites and by emailing. Of course you can still transfer images by USB lead or by removing the storage medium a micro SD card and transferring images by a card reader.
Kodak has only recently gone to Micro SD and they along with Samsung are the only major manufactures that come to mind that do so.
While it can be used as a point and shoot unit allowing it to make all the choices there are a range of scene modes and there are also programming options that allow you to take control. Editing on the camera of stills and even taking stills from movies is possible and the Kodak Perfect Touch option can often give surprising results.
Perhaps the red colour will find more favour with the ladies as it is getting a bit near to pink, I see it is also available in black. A nice easy to use camera that works well even with flash but do remember strong sunlight makes the TFT difficult to see.
The Kodak Easy Share Touch M5370 is available from the first link below for £154.15 with free delivery.
http://www.amazon.co.uk/gp/product/B0056N6J2O?ie=UTF8&tag=gadge0a-21&linkCode=as2&camp=1634
http://shop.kodak.co.uk/store/ekconseu/en_GB/pd/TOUCH_Camera__M5370/productID.233794000