Canon Power Shot SX210IS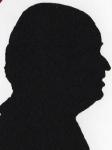 Canon has two styles of cameras in their pocket range the really small Ixus range and the slightly larger Power Shots. Here the latest Power Shot that is still small and sleek while offering more in optical zoom and other features.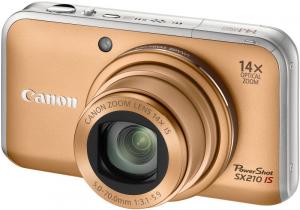 click image to enlarge
The front and back of my unit were gold in colour while the top, bottom and sides were silver. It is 10x6x3cm and the latter figure the width can increase to 8.5cm when fully zoomed. It weights a tad over 200grams.
The top has an oval on/off button beside this a rod style wide angle/telephoto rocker and finally a circular shutter release, the flash automatically opens on the left top edge. The right side has a click door behind which is a mini HDMI socket and a micro USB socket, below these is the wrist strap anchor point. The base has the tripod screw and a door behind which goes the solid battery and any SD card you might use. The left side is clear.
This leaves the back that has a 7.2x4cm TFT display marketed as 3.25inches. To the right of this a thirteen position wheel and below this two rows of two well illustrated buttons and between the rows the ubiquitous five position joystick.
There is a printed Getting Started guide – in several languages – the English one is 36 pages and should get even the novice started. For more detailed information you will need to refer to one of the two provided CD's the User Manual. The Solutions offering CD will allow you do remove minor blemishes – Red Eye – etc and help you print.
You can capture images at L 4320x3420 14MP, M1 3456x2592 9MP, M2 2592x1944 5MP, M3 1600x1200 2MP, S 640x480 VGA or W 4320x2432, all can be captured in Normal or Fine resolution compression modes.
Video can be captured in 1280x720, 640x480 or 320x240 all in 30FPS; various other features are available to adjust.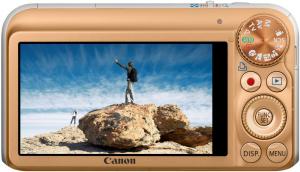 click image to enlarge
The 13 positions on the wheel are Auto where your only choice is resolution and compression the camera makes all your other choices. Program mode where you have far more choices. Tv where you select shutter speed but the camera selects Aperture. Av where you select Aperture but the camera selects shutter speed. Manual where you select both Aperture and shutter speed. Video mode, SCN where images are taken while subject is smiling (or snarling). Indoor Shooting, Kids and Pets, Night Shooting, Landscapes, Portraits and finally Easy Auto where the camera makes every choice for you all you need to do is to point and press the shutter.
There is Image Stabilization which is very much needed when you are zooming (14x possible) simply because the lens expands so much that even balanced on a solid structure such as a fence you still get some movement when close to maximum zoom.
The only real solution if you must zoom greatly is a sturdy tripod to hold the camera still. Perhaps better to use less zoom and then enlarge the area on the PC, certainly in my tests that seemed to work and produce more detail.
One niggle is that the flash opens automatically and it means my steadying finger needs to be repositioned. Images taken with flash were good and worked in excess of 3.5metres probably because the minimum distance the flash is from the lens is 4.5cm even without any use of zoom.
Doing my Internet searches found the Canon PowerShot SX210 IS at a best price of £229 including free delivery from the first link below. For some reason in black it is available for £10 less, however a purple/pink colour is £3.10 more than the gold colour I was sent.
http://www.amazon.co.uk/gp/product/B00375N4OE?ie=UTF8&tag=gadge0a-21&linkCode=as2&camp=1634
I found the Canon PowerShot SX210 IS available in for $249.99 including free delivery from the first link below.
http://www.amazon.com/gp/product/B0035FZJMQ?ie=UTF8&tag=gadge0a5-20&linkCode=as2&camp=1789
I found the Canon PowerShot SX210 IS available for €259,90 including free delivery from Amazon on the first link below.
http://www.amazon.fr/gp/product/B0037KC120?ie=UTF8&tag=gadge04-21&linkCode=as2&camp=1642
www.canon.co.uk/For_Home/Product_Finder/Cameras/Digital_Camera/PowerShot/PowerShot_SX210_IS/