Brother MFC-1810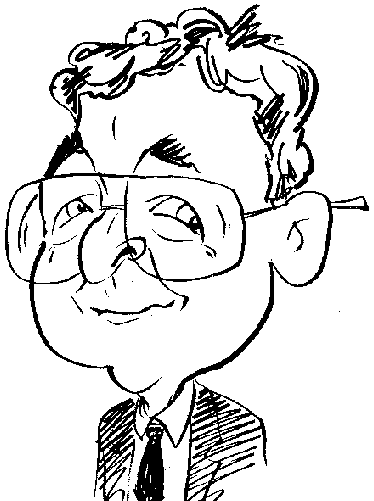 While most All-in-One devices are based on an inkjet printer, this next model from Brother features a laser printer.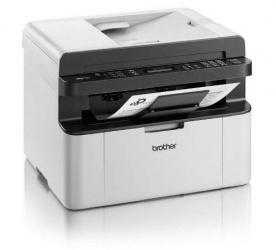 click image to enlarge
The Brother MFC-1810 is an All-in-One device. Combining an A4 flatbed scanner with a printer, this product provides the user with print, scan and copy facilities plus Fax capabilities and an ADF (Automatic Document Feed) feature. Rather than the more common inkjet variety, the printer in this model is a mono laser unit making the product more suitable to the small office/home environment. Connectivity is via a standard USB lead which you need to provide.
With dimensions of 385 x 340 x 255mm (W x D x H), this All-in-One device is predominately computer grey in colour apart from a black panel covering the top half of the unit's front. This black area features the paper output opening slot with a hinged support arm and a protruding lip containing the device's control panel. The control panel features a 2 x 16 character display that, even at the highest contrast setting, was difficult to read. I needed to position my eyes directly above the display in order to read its content.
To the left of this screen are buttons dedicated to the FAX features and Copy options plus others for selecting the three main types of FAX, Scan and Copy tasks. Menu navigation and alphanumeric keypad and a Start button are located to the right of the screen. While the general arrangement is fine, the screen display does let it down a little.
A drop down flap, initially covering the lower half of the unit's front, acts as the paper input tray. This tray has a capacity of 150 sheets. A further 10 pages can be fed through the scanner on to the printer for automatic photocopying from the ADF feature mounted on top of the scanner. As mentioned, paper output is from the black panel. Rather surprisingly you need to lift the top of the All-in-One in order to release the support arm so that printed documents are not scattered all over the floor.
You will also need to raise the same top unit to gain access to the innards of the printer in order to insert or replace the toner cartridge. This is a relatively straightforward operation although it could have been even easier with better instructions in the folded sheet of paper making up the Quick Set-up Guide. The toner cartridge is rated at delivering 1000 A4 pages.
A CD-ROM with appropriate drivers for print, scan and Fax capabilities, software and User Guides is included in the package. This set-up procedure included on this CD-ROM will inform you when to connect this Brother All-in-One with a computer via a USB lead. The USB port is located at the rear of the device along with sockets for power and telephony connections. A system restart will be required to complete the set up procedure.
This All-in-One device is powered by a 200MHz processor with 16MG of standard memory. Some of this memory will be used to store up to 400 pages for use by the Fax facility. Faxes can be broadcast to a maximum of 119 locations made up of 99 speed dial numbers and a further 20 numbers entered manually. The Fax feature has the ability to reduce an incoming call down to A4 paper size that would otherwise require two sheets of paper.
By combining the scan and print capability of this device, it can work in photocopy mode – admittedly only with monochrome results. Using the ADF feature to deliver a six-page document to the printer, via the scanner, took 38 seconds to complete the task. A single A4 copy of a page from a magazine required 22 seconds to scan and print. While the scanner is limited to monochrome when working in conjunction with the printer, it can send coloured scans direct to a computer for further work. The scanner is a 24-bit model with an optical resolution of 600 x 1200 dpi enhanced to 19200 x 19200 dpi.
When using the print driver to create documents, you have a choice of three quality levels. These three levels are designated as Draft, Normal or Fine. You can also select from a choice of graphics, text or manual and the type of paper being used for the document. Brother claims that this product can deliver up to 20 pages per minute. My tests produced very similar figures when printing a 322-word document. The actual figures are displayed in the table below.
Brother MFC-1810 Print Speeds

| Draft | 22 ppm |
| --- | --- |
| Normal | 21 ppm |
| Fine | 21 ppm |
There was very little difference in the print quality between all three levels with Normal and Fine being slightly darker. I would be happy to use any for most tasks. While reasonable, print quality for images was not of the same high standard as that achieved with text.
Brother has priced the MFC-1810 at £130.80. A replacement cartridge (1000 A4 pages) is priced at £41.90 and a new print drum (rated at 10,000 A4 pages), will cost £77.99.