Canon Digital Camera PowerShot S110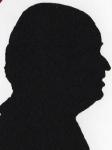 A small but powerful Digital Camera, ideal for a pocket or handbag for those who want more than that normally on offer from the camera in a phone or smartphone but without the size and weight associated with most DSLR units.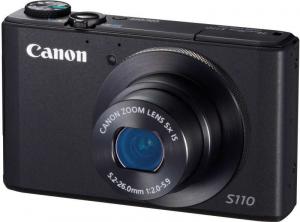 click image to enlarge
The Canon PowerShot S110 measures 9.5x6x2cm and weighs less than 200grams. It can take images up to 12MP and has an optical zoom of up to 5x.
The face has only the 5.2-26mm lens, the right side has a rubberised bung over the A/V and HDMI out ports. The left side is clear, the base has a tripod screw and a door behind which the solid battery and any SD card you use goes.
The top has the automatically raising flash module that is above and to the left of the lens and never closer than 4cm. There is a flush on/off button the slightly raised shutter release button that has the zoom/wide angle control and finally the ten position control wheel.
This leaves the back which is dominated by the 6x4.5cm TFT display, to the right of this at the top is your thumb anchor point and below this two rows of two well-marked buttons split by the ubiquitous five position joystick that completes the controls.
During my review I found a short period of sunlight as well as numerous dull and wet days, for night shots I braved the weather and also took some inside in poor light conditions, all conditions were ticked without problems.
There are no less than five aspect ratios, 16:9, 3:2, 4:3, 1:1 and 4:5. I do believe the last mentioned is the first unit that I have seen that does so. Each image size can be L, M1, M2 or S. So while I am not a great fan of tables as there are twenty available sizes I think one is the easiest way to display them.
| 16:9 | 3:2 | 4:3 | 1:1 | 4:5 | Resolution |
| --- | --- | --- | --- | --- | --- |
| 9MP | 11MP | 12MP | 9MP | 7MP | L |
| 4MP | 5MP | 6MP | 4MP | 4MP | M1 |
| 2MP | 2MP | 2MP | 1MP | 1MP | M2 |
| .2MP | .3MP | .3MP | .2MP | .2MP | Small |
There are three video resolutions 1920x1080, 1280x720 and 640x480.
All modern cameras have some form of image stabilization the Canon implementation works very well so unless you are shooting at high zoom you should get an acceptable image handheld.
With touchscreens now on almost all Android and a lot of 'i' devices. The camera TFT seems a good next target and here it works well as does the image rotation so a portrait image can be shown full screen with a simple camera turn.
While the images can be sent via Wi-Fi – to save keep removing the SD card or finding the cable – it does not have GPS but in conjunction with most recent phones GPS location is possible if a two stage process.
Scene detection is an important stepping stone between 'Auto' and 'Manual' and this unit has no less than 58 possible choices, maybe too many. I suggest you find a few to get used to like Sunset, Night, Beach and maybe a couple more and find out what they offer or you will be going through all the choices and lose the very shot you want.
The possible maximum ISO is 12800 where you will certainly need a tripod to get good results. A digital camera with RAW possibilities is rare but this unit does have some capability. The F/2.0 lens means that you can get decent images in less than perfect light in places where use of flash is frowned on but again I would suggest a tripod for best results.
High speed burst mode means you can get 10FPS.
While this is a Digital Camera as it does not have a detachable lens it is certainly one for an intermediate user who wants to get beyond 'Auto' mode quickly. It has a lot to offer and while some may sniff as it is pulled from your pocket the quality of the images it takes will soon have them saying it's a nice little unit, you decide how much of its 'oomph' you utilise.
The Canon PowerShot S110 is available from the first link below for £299.95 with free delivery in White or Silver, the more normal Black unit is currently £20 more.
http://www.amazon.co.uk/gp/product/B009C8T05M?ie=UTF8&tag=gadge0a-21&linkCode=as2&camp=1634
http://www.canon.co.uk/For_Home/Product_Finder/Cameras/Digital_Camera/PowerShot/PowerShot_S110/