Canon Pixma MP490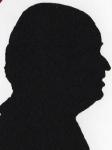 This is a reasonably priced four ink (two cartridge) All In One unit. However it is really designed for light use simply because of the small size of the ink cartridges. Output quality is good the only drawback is the ink cost.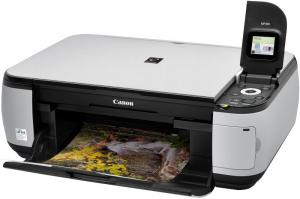 It is 43x32x16cm when closed, with A4 paper stored in the rear vertical tray it adds 20cm to the last figure the height. It is light grey (almost cream) in colour with a single black band around the top of the sides of the unit.
On the right side of the top is a lift up panel that hides six buttons and the ubiquitous five position joystick these are the user controls. The back of the panel is the 5x3cm TFT that displays any information for the All In One. This display shows up to five lines of information including a representation of the remaining ink state.
Being an All In One you can copy without the PC being on – or even connected. Copying an A4 page in monochrome takes 23seconds and a similar colour page takes 46seconds. These are accepting the default settings.
Printing speeds for the nonsensical 200 word test page are 12PPM Custom mode set to speed and 11PPM using Fast mode. The Fast mode is very slightly sharper although even the Custom mode is still crisp and only a tiny bit grey in colour. An interesting fact is that the slider on Custom mode goes from 1 to 5 with 1 being fine and 5 being fast however with this unit only 2 to 4 are available settings.
Printing a more normal 1500 word document (split over four pages) comes in at a tad over 8PPM in Custom and nearly 9PPM when in Fast mode. Of course Standard and High quality are a lot slower but they are not timed.
Printing images using the excellent Canon Photo Print software accessible either from its own icon or from Canon Solutions Menu produces an A4 borderless image in 138seconds and four near 15x10cm printed on a single A4 sheet in only three seconds longer. These were of course printed on photo paper using the default settings.
Scanning an A4 page using the provided Canon software for a colour image takes around 30seconds. However should you use the icon in My Computer it takes considerably longer although you eventually end up with the same interface. You can of course use the interface to OCR or even to create a PDF file from your scanning.
There are other modules included in the Solutions Menu including some rather nice label printing software that not only allows the normal sort of ten or twelve labels per sheet to be setup but also to print labels for CD/DVD.
This is a nice neat easy to use All In One unit at a reasonable price providing you are a light use. Now if the ink cartridges were four times the size then I would not hesitate to think this was a perfect SOHO users piece of kit.
Copying was straightforward, printing was very quick and images were sharp with good definition, text printing was fine for anyone wanting a few pages. Scanning was clear and sharp and the OCR was reasonable.
I know manufacturers subsidize the units cost by selling repeat cartridge sales but surely they could be somewhat bigger. Not everyone wants or needs a unit costing in the hundreds of pounds.
Doing my internet searches found the Canon Pixma MP490 at a best price of £56.62 including free delivery from the first link below.
http://www.amazon.co.uk/gp/product/B002QHD6U6?ie=UTF8&tag=gadge0a-21&linkCode=as2&camp=1634
I found the Canon Pixma MP490 available for $99 including free delivery from Amazon on the first link below.
http://www.amazon.com/gp/product/B002GP7Z6Y?ie=UTF8&tag=gadge0a5-20&linkCode=as2&camp=1789
I found the Canon Pixma MP490 at a best price of €75 including free delivery from Amazon on the first link below.
http://www.amazon.fr/gp/product/B002M9SXH4?ie=UTF8&tag=gadge04-21&linkCode=as2&camp=1642
http://www.canon.co.uk/For_Home/Product_Finder/Multifunctionals/Inkjet/PIXMA_MP490/