Nikon D3000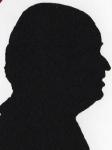 Review controls
It is always nice to be stretched by a DSLR unit. This one from Nikon would make an ideal stepping stone for a competent Digital Camera user before going on to a professional unit if indeed they intend to progress further.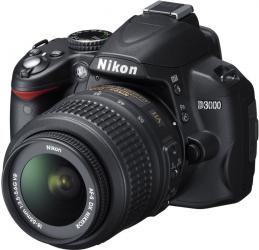 click image to enlarge
The Nikon D3000 Digital SLR (Single Lens Reflex) camera measures 12x9.5x15cm to the end of the closed lens. This unit is a kit and comes with an 18-55mm lens. The total weight with neck strap fitted is 840grams.
Unusually for a DSLR it has a Quick Start sheet to help those you have not used one before. There is also a 64 page User Manual to let you adjust to doing more than 'point and shoot'. There is an 'Auto' mode where the only change from most Digital Cameras is to use the viewfinder and adjust the lens to get the image framed correctly.
By default you do not see the image taken on the TFT unless you press the view button and then only as a small image using about a quarter of it. This is easily adjustable and a 6x4.5cm view is available.
So a quick run round the controls, the rear has the 6x4.5cm TFT and to the left of this four clearly marked buttons. To the right of the TFT is the ubiquitous five position joystick and below this the delete button. The right side has a slide and flip door behind which you insert an SD or SDHC card. The left side has a rubber bung covering a micro USB port and A/V out socket. The rear has a tripod mount screw and the solid battery door.
This leaves the top and front. The latter has the lens as well as timer and flash buttons. The neck strap attaches either end of the top with the flip up flash in between there is also a shoe mount should you decide to use an external flash. However in my tests the provided flash worked well in excess of six metres in poor light. The right of the top is shaped for the right hand grip with shutter release in the centre of a twist on off control. Two other well marked buttons are also within easy reach for the thumb. There is also a 13 position wheel for all the possible shooting positions for when 'Auto' is not enough. There is a 'Guide' setting to help you when out and about without the User Manual to hand or when you do not wish to be seen referring to its contents. Finally another well marked button and a viewfinder eye adjustment button mounted to the right of the viewfinder.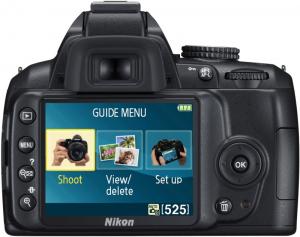 click image to enlarge
The user manual although specific to the D3000 could make an ideal novices guide to DSLR as it starts from the basics and should answer all your questions along the way. Perhaps one of the hardest things for a novice to do is getting used to using both hands on the camera. The left hand should also help to stabilise the camera when you open the lens to greater distance shots.
As always I took a range of shots both night and day including some 'touristy' stuff during one of my regular visits to London, you certainly do not look out of place taking images along the Thames even at 10AM and getting buildings framed correctly from both sides with low sun is great fun and shows the cameras pedigree.
One of my regular jazz venues always provides a benchmark as I keep similar sorts of images from a range of visits for a whole range of cameras that I have tested. As you would expect this camera produced better images using similar criteria to a basic Digital offering. The flash as already mentioned is effective at more than twice the distance of a small digital offering. However it's when you move on to making decisions for yourself (once you have progressed past 'Auto') that you start to see exactly the difference between Digital and DSLR cameras.
If you wish to move up from a Digital Camera to DSLR this is ideal and maybe in a few years you can then progress to a professional camera and then if good enough and in the right place at the right time start making your hobby pay.
Doing my Internet searches found the Nikon D3000 kit at a best price of £398.40 including free delivery from the first link below.
http://www.amazon.co.uk/gp/product/B002J9GIAQ?ie=UTF8&tag=gadge0a-21&linkCode=as2&camp=1634
I found the Nikon D3000 kit available for $514.95 including delivery from the first link below.
http://www.amazon.com/gp/product/B002JCSV5I?ie=UTF8&tag=gadge0a5-20&linkCode=as2&camp=1789
I found the Nikon D3000 kit available for €477,90 including delivery from the first link below.
http://www.amazon.fr/gp/product/B002J9GIAQ?ie=UTF8&tag=gadge04-21&linkCode=as2&camp=1642
http://www.europe-nikon.com/product/en_GB/products/broad/1821/overview.html