GE G2 8MP Digital Camera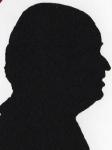 Review controls
This is the second camera I have seen from the launch earlier this year (see article on 23-01-08). This on is from the 'G' range and is an 8MP offering with 4x zoom face detection, image stabilization and in camera red eye removal and panoramic stitching.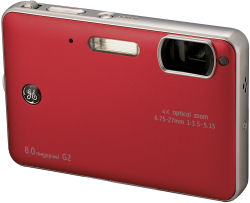 click to enlarge
The G2 from General Electric (GE) is available in silver, black and red measuring 10.5x6x2cm, these are both minimum and maximum dimensions as the Aspheric glass lens uses a periscope type zoom where the zooming all takes place inside the unit.
The lens and flash are level with each other and in my tests this produced less than brilliant flash results when images taken were a little further away. The right side has the wrist strap anchor point. The left side is clear and the base has a cover for the solid battery and optional SD card. It also has a rubber bung hiding a mini USB port and this is labelled A/V out.
The top has the on/off button, the shutter release and the wide angle/telephoto toggle. This leaves the back that is dominated by a 5.5x4cm TFT display to the right of this are the other controls. An eight position wheel, the ubiquitous five position joystick and three other clearly labelled buttons.
GE made big store at the launch that all their cameras shared the same manual. The first 23 pages are in English and because the various cameras have different features that means you often have to look to see what applies to your unit. There are also two double sided sheets Superior Features and Quick Start Guide (both have half a side in English). The quick start guide will probably be enough to get all but the total novice going. The Superior Features cover four features, Face Detection this normally works. Panorama Stitching this works with practice, Smile Detection this is rather hit or miss but could work, a nice innovation. Finally Blink Detection another new innovation but I had little success with this.
This unit has three compression modes Best, Fine and Normal. It has eight image sizes 8MP, 7MP (3:2), 6MP (3:2), 5MP, 3MP, 2MP, 1MP and VGA. So that gives twenty four different amounts of space an image will take. This brings me to my normal moan, no SD card and no case. GE are not alone as most manufacturers put a small amount of internal memory and then - at the request/demand of large retailers - no card is supplied the case is stated as a non essential extra so again the large retailers make huge profits selling a case. While the face of any camera is not that likely to be damaged the TFT on the back is and a case is vital. A perfectly adequate offering (maybe not stylish) even a drawstring bag would cost the manufacturer pence and as for the SD card a 1GB card is available for a few pounds.
Of course the real devourer of memory is when you use a digital camera as a camcorder. This unit can take 640x480 or 320x240 at either 30FPS or 15FPS. In my tests I found that a one minute movie sequence (640x480 at 30FPS) used around 27MB of storage space.
The battery in still mode is stated to last around 200 shots between charges but of course that will vary dependant on the number of images you take with flash etc.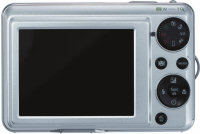 click to enlarge
Images I took in reasonable light were fine, with flash anything within around three metres was also fine but after that there was a rapid fall off.
I still find it hard to work where there is no lens moving in/out with the implementation of zoom but I dare say it's just a matter of trust, I found in certain cases it was harder to get the red focus block to change green than with other recent test units.
Doing my Internet searches found the Silver GE G2 at a best price of £98.53 including shipping from the link below. This retailer includes a 1GB card and a case in the price.
http://www.amazon.co.uk/GE-Digital-Camera-Silver-Reader/dp/B0015LTLMQ
You can see the full range of colours and prices on the following link :
http://www.amazon.co.uk/gp/search?keywords=GE%20G2%20Digital%20Camera&index=electronics-uk