Olympus u780 All Weather Compact Digital Camera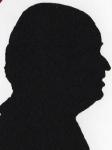 Review controls
Having recently looked at a DSLR from Olympus this is the other end of the scale however not only is it small and has a decent zoom but it is also close to waterproof.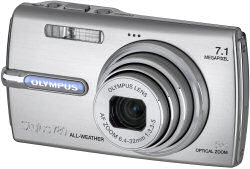 The Olympus μ780 weights under a 150grams, will fit in the palm of an adults hand. It is 10x5.5x2.5cm and is made of aluminium.
The right side has a dual slot for DC input and USB AV out. The left side is blank while the base has insertion point for the solid battery and the same cover covers for the optional XD card, the base also has screw fixing for a tripod.
The front has the flash above and 3cm to the right of the centre of the 5x optical zoom lens. The top has three buttons on/off, shutter release and the hand symbol that helps to increase stability for when you cannot take a rock steady image. Everything else is on the back.
The 5.5x4cm Hyper Crystal LCD display dominates the rear with the right side being crowded with eleven buttons and a six position wheel but the illustrations should make everything clear. Sadly on a camera of this size there is no viewfinder.
I see from looking at their site that this unit is also available in black. Either black or aluminium it is a 7.1 mega pixel offering with 5x optical zoom (35mm equivalent of 36-180mm focal length).
The camera works well in low light providing either a tripod or solid surface is used to take images from, if not the image stabilising helps. Initially I was not that happy with the flash as it tended to lose items with a strong light behind but this can be countered. Then I managed to take images that I thought would be unusable because of strong nearby light sources however when you use flash this seems to negate the external light. So even if you cannot get a good image on the TFT because of glare turn on the flash and images up to around four metres away are fine. The review on the screen is perfect and so is the printed image.
For those wanting more than point and shoot there are no less than 22 scene modes to help you off the 'auto' setting. While I am still not a huge fan of movie recording on a digital camera this does it quite well and of course this is a lot smaller to take around than even the smallest camcorder and the images are a lot better than those of the huge majority of mobile phones.
Sensitivity when in manual mode can be 80, 100, 200, 400, 800 or 1600 but even with the stabilising provided the higher figures require a tripod to get good results. Using one I got good images of fast moving items and also took images that I would really only expect to get good results using an SLR.
The range of things that the u780 can do make it a mini lab, black and white or sepia for those old looking images. You can frame images, attach a title or even turn an image into a calendar all with the software supplied. Transfer can be by mini USB from the 15MB of internal memory but in reality you need a decent sized xD card and the images from this can be transferred by USB or by removing the card and using a card reader in the PC.
Nine different image sizes from 3072x2034 down to 640x480. In movie mode there are three sizes 640x480 at 30 frames per second with a ten second limit or 320x240 or 160x120 both at 15fps up to the cards capacity.
For those wanting to see more of the camera from any angle a 360 degree tour is available from the second link below. Doing my internet searches found the Olympus μ780 all weather compact digital camera at a best price of £129.99 from the link below.
http://www.amazon.co.uk/gp/offer-listing/B000N3M4ZI