Olympus E-500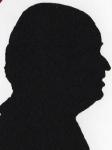 The Olympus E-500 is a DSLR (digital single lens reflex) camera and I was sent it with a couple of lenses, the first a macro lens great for those close ups and the send a more general 14-45mm offering.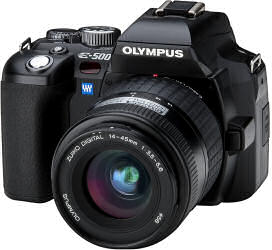 Perhaps a camera those who come from a 35mm background would fall in love with, mainly because they are used to making decisions that the modern digital photographer either does not make or does not have to make. However the 'Auto' mode is there but it still requires some work with the lens that a standard digital camera does not.
As with most SLR cameras what you normally get is just the body. I was provided with a macro and 14-45mm lens to complete the trials. The body itself weights around 500 grams and is 13x7x9cm, these are maximum dimensions but obviously whatever lens you attach will add substantially to the 7cm depth.
This is an 8MP offering and maybe suitable for anyone wanting to move from a digital camera to something offering more. Perhaps the main difference for anyone used to a digital camera is that the LCD display is used not for framing the image but to display the settings. Images are taken using the viewfinder. Yes you can check what you have taken with the LCD.
You will need to take sometime getting used to what the 13 buttons on the back do as a lot of them differ from similarly named items on a digital camera. The top has a fitting for an external flash shoe but there is of course a built in flash. To the right of this are the other controls, the on/off slider, shutter release and two wheels whose uses should be self explanatory.
The base has a tripod screw and solid battery insert point. The left side has a rubberised door behind which is USB/Video out socket. The right side has a door hiding the storage cards. Being Olympus it supports xD cards but also Compact Flash Micro Drives as until very recently they held far greater capacity than any other storage card could. I am told that 8GB SD cards are now just arriving so no doubt xD cards of the same capacity will not be far behind.
The supplied printed 'Basic Manual' was not great and not really any use for anyone trying to find little extras.
Using the Macro lens really took some getting used to as it's name implies it's for close up work but after some practice I got the hang of it and was quite pleased with some of the images. The 14-45mm lens was easier to get on with and you can see the difference between images taken with it and those taken with a near equivalent digital camera. Of course the real difference is when images - or portions of images - are printed and then the extra depth of field really comes into view.
Whereas almost anyone can get goodish images from a digital camera by sticking it on 'Auto' and pressing the shutter the same is certainly not true of an DSLR and you either need some years of practice from non digital 35mm or to have pushed yourself far beyond 'Auto' with a digital camera.
No doubt the 'David Baileys' out there could produce numerous masterpieces with the Olympus E500 and various Zuiko Olympus lenes but there is a learning curve.
Doing my Internet searches found the Olympus E-500 for a best price of £352.49 including free delivery from the first link below. This offer also includes 14-45mm lens I was sent and the 40-155mm lens and seems to me to be a brilliant deal. You will of course need to purchase either an xD card or a Compact Flash Micro Drive.
http://www.ebuyer.com/customer/products/index.html?action=c2hvd19wcm9kdWN0X292ZXJ2aWV3&product_uid=120897&_LOC=UK