Samsung Digital Cameras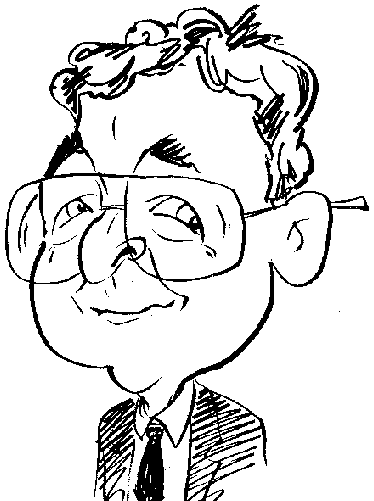 Clutching his notebook (paper variety) our roving reporter preened himself before posing for a photographic session.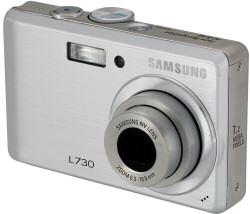 Samsung
L730
When launching several new digital cameras where better to hold the event than in a hotel frequently used by celebrities. However while the various cameras were there in all their splendour, I failed to notice even one minor celebrity. Maybe nobody had told them of the photographic opportunity afforded by the presence of the new Samsung digital camera range.
While you may not immediately connect the name of Samsung with digital cameras, the company is currently occupying the number two position for the first half of the current year with 13% market share. On top of this, the company has just announced an even greater visual presence by expanding its relationship with Chelsea Football Club by becoming the club's Official Camera Sponsor.
Although sales of 7 meg-pixel digital cameras accounts for the largest section of the market with 40%, the vast majority of Samsung's new offerings have a higher mega-pixel rating. In fact just one of this new batch of cameras, which is the L730
, is a 7 mega-pixel model. This camera features a 3x optical zoom and a 2.5 inch LCD display. Shutter speeds of up to 1/1,500 a second are possible with an ISO equivalent of 1600 for improved pictures in low light conditions. The camera comes with 16MB of internal memory and there is support for SD flash memory cards of up to 4GB capacity.
As well as still images, the L730 can capture video, with or without audio, using various resolutions up to 800 x 592. The camera features Samsung's Face Recognition technology which detects the subject's face and automatically makes adjustments to the focus and exposure to achieve the best results. Included in the box is Samsung's Digimax Master Software to edit images. Available at the end of August the L730 has been priced at £119. Samsung has also announced an 8 mega-pixel version, the L830 with a £149 price tag.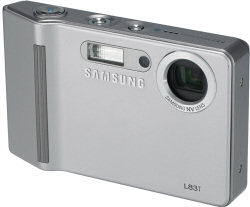 Samsung
L
83T
Completing the L range is the L83T
. This is an 8 mega-pixel camera that adds features such as Samsung's proprietary ASR (Advanced Shake Reduction) image stabilising system for shooting in low light conditions and a Wise Shot feature that can take two consecutive images in rapid succession. One capture will be with flash and the other with ASR image stabilisation. The user can review the images before making a selection. The L83T
camera, with a shutter speed of up to 1/2000 second, will be available at the end of the month and has been priced at £179.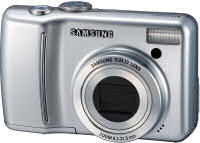 Samsung
S85
Next up is the 8 mega-pixel S85
. The camera, which can be powered by a rechargeable Ni-MH battery or AA alkaline batteries, features a 2.5 inch LCD; 5x optical zoom; and 20MB of internal memory that can be supplemented by SD memory cards of up to 4GB capacity. Intelligent Face Recognition and ASR technology are included along with a built-in microphone for attaching 10-second memos to still images. 13 screen modes are supported and there is also an Effect hot key for making quick adjustments and carry out some editing. As with the other models, the S85 will be available at the end of August with a price ticket of £119.99.
Not to be confused with the S85 is the i85. This is a digital camera that could easily act in the role of a tour guide or PMP (Portable Media Player). In its basic camera guise, this is an 8 mega-pixel device with all the features of the previously mentioned models. It has an in-built Tour Guide function that provides access to travel information covering 2,600 regions in 30 countries. Additional information can be downloaded from the Internet. The unit's 3.0-inch touch screen LCD can be used to view movies in DivX format while there is also support for MP3 music. Internal memory is set at 173MB which the possibility of using MMC/SD/SDHC memory cards for extra storage. The i85 has been priced at £229 and will be available at the end of August.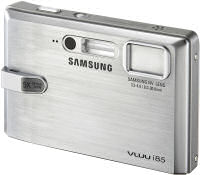 Samsung
i85
Samsung has added three new models to its NV series. All three models feature Samsung's Smart Touch User Interface that allows the user to quickly navigate menu items; change settings; and view pictures. Improved processing technology is claimed to improve performance with reduced noise and support for up to ISO 3200. You also get a local contrast control to compensate the brightness when the subject is in the shadows.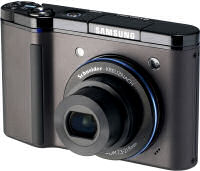 Samsung
NV20
FS
The NV8 is an 8 mega-pixel camera
costing £199. As a 10 mega-pixel model, the NV15
has been priced at £229. Finally the NV20 is Samsung's first 12 mega-pixel offering
and is priced at £249. All models feature 20MB of internal memory and can accept MMC/SD/SDHC memory cards for both still image and movie clip capture. Watch out for reviews when units become available.