Olympus FE-250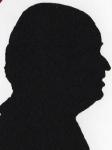 In the dim and distant past I used to see a lot of Olympus cameras, now the chance to review them again has arisen and I took it with both hands. Here is certainly a pocket offering but still powerful.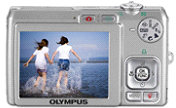 It seems strange to say 8 mega pixel (actual 8.3MP) is near entry level but that is the way things are going. The Olympus FE-250 is a little over 100 grams and is 9.5x5.5x1.5cm. The back is dominated by the 5x3.8cm TFT display.
Quickly through what's where on the camera, the base has an anchor point for a tripod and the door that hides the battery and optional xD card. The right side has A/V out and mini USB as well as anchor point for the wrist strap. The top has power button and wide angle / telephoto adjuster around the shutter button. The left side is blank, this leaves the back two thirds of which is taken by the TFT with buttons to switch between shooting and display above it. There is no viewfinder so the TFT needs to be used for framing images and in strong sunlight this can be a problem. Two further buttons - well illustrated - the ubiquitous five position joystick and an eight position wheel complete the controls.
There is what is described as a 'Basic Manual' 27 pages of it are in English and while there is an 'Advanced Manual' on the CD my opinion is that the 'Basic Manual' is really a getting started guide unless the user is a real beginner with digital cameras.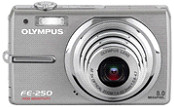 There are five shooting modes described as SHQ, HQ, SQ1, SQ2 and 16:9. The sizes are 3264x2448, 3264x2448, 2048x1536, 640x480 and 1920x1080. You will notice SHQ and HQ are the same resolution but the compression factor is greater. The 16:9 is a newish offering which is excellent should you want to display images on a TV or modern PC panel as a lot are made 16:9 shape. However for printing on A4 they either leave a border or you have to crop so think about your image before you shoot it. Changing shooting modes is only three clicks only.
I rarely have a printer that can print an A3 or greater image but during the review period I had one come in (review shortly) so I happily set SHQ and took some images normally all I can do is blow up a proportion of the image and print at A4 so with an A3+ printer and a small supply of photo paper at that size I took a range of images and was more than happy with the printed results even under a glass.
As stated no xD card or case is supplied and both are really required. I have just purchased a 512MB xD card for less than £10 and I suspect a case could be available for around the same money. This camera can support cards up to 2GB in size. While the lens is covered when off the two sides meet in the centre and a key could just force them apart. The TFT is totally uncovered and I keep a range of small bubble wrap bags for this purpose, however if you buy it both the xD card and case will be essentials. To charge the solid battery you need to remove the battery and place it in the supplied charger.
There are a total of eighteen scenes once you have progressed past the excelled 'Auto' mode however the switch on takes about five seconds until the mode or 'Auto' disappears so no sudden ideas about that quick snap as the moment will probably have passed unless the camera is already on.
You can - as with most recent digital cameras - take short videos and it is possible to get 30fps in VGA but of course you need a large xD card. The optical zoom is 3x and while that is normal these days in an entry level camera I perhaps expected that bit more.
Doing my Internet searches found the FE-250 at a best price of £142.99 including delivery from Amazon. At that price it's good value but remember you need an xD card and a case.
http://www.amazon.co.uk/gp/product/B000N2SYJ4
http://www.olympus.co.uk/consumer/29_FE-250_Specifications.htm