Canon Pixma MG5750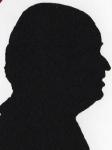 This is an 'All in One' unit, meaning it prints, scans and copies. However as with most recent units the selling point is the ability to print from all your mobile devices. It can still be a Windows unit with connection either by USB lead or Wi-Fi.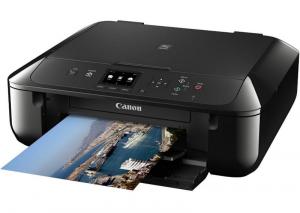 click image to enlarge
The Canon PIXMA MG5750 measures 42x44x15cm and if you allow a few centimetres more to the last figure the height you could even put it on a shelf, this would enable the laid back flatbed to be lifted to place pages on to be scanned, most importantly you would not offend the lounge police as the black colour of the machine might not suit some household colour schemes.
Paper is inserted face down on the open paper tray in the base of the unit but the figures given include this being open with paper inserted. You have to remember to open the drop down paper output tray or you get an error message. I review a lot of Canon units and some output trays open automatically at print time others like this unit do not.
The sloping top has all the units' controls in front of the scanner lid.
From left to right on/off, Home, then the 6x4.5cm TFT screen that has three touch bars underneath it to mov3e you though the menus. Next is the back button then the ubiquitous five position joystick control and finally Colour or Monochrome buttons for copying add a couple of LEDs and that is the units controls.
Canon describes this as a 'photo all in one'. So taking a 15x10cm sheet of photo paper and setting the output to best and borderless it took 45seconds to get a print that was touch dry. This can according to the specifications be reduced to 41seconds but that would probably not include time between PC and printer. The image was excellent. This unity can print borderless up to A4 which a number of units cannot.
While Canon promote their own Cloud to print through you can print from anywhere providing the printer is connected via Wi-Fi to your router and its turned on and it has paper in the input tray. Almost all recent cameras have Wi-Fi image transfer.
If your Smart Device has NFC then just hover it near the MG5750 and your image or document will print.
This unit has five inks and because of that there is far less waste than with a multi-colour cartridge. That is three colours and two blacks.
Canon provides some excellent software which for the novice can give some excellent results without you having to know what you are doing just let the software make the decisions.
The latest print speeds have to use a special sheet and so individual companies cannot pick features to suit their own products anymore so the times given must be obtainable. These are stated to be 12.6PPM mono and 9PPM colour, both these would be in draft mode but the Canon draft mode is still sharp and blacks are not grey as with some manufacturers.
For those that want it you can have two sided printing without the fuss of having to run things through twice.
The Canon Pixma MG5750 is available from the link below for £85.17 with free delivery.
http://www.amazon.co.uk/gp/product/B013OQJMD2?ie=UTF8&tag=gadge0a-21&linkCode=as2&camp=1634
http://www.canon.co.uk/printers/inkjet/pixma/pixma_mg5700_series/#p-specification1