A4 and A3 Photo Printing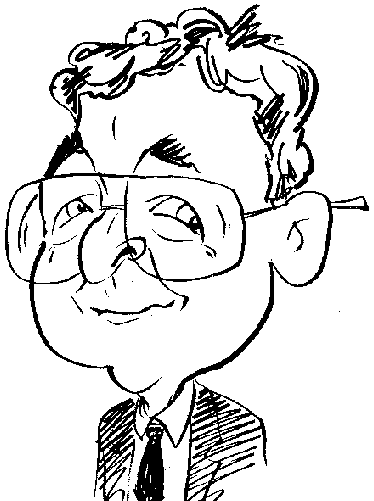 Described by Epson as the "Photographer's Best Friend", the Expression Photo XP-950 is an A3 All-In-One device. Predominately lacquered black in colour, with a matte silver band and Epson identifier on the front face, this unit offers scan, copy and print functionality with a choice of Wi-Fi, Ethernet or USB connectivity.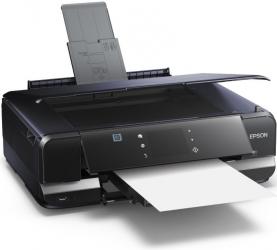 click image to enlarge
With the standard arrangement of an A4 flatbed scanner mounted on top of a six-colour inkjet printer, the Photo XP-950 unit has dimensions of 479 x 358 x 148mm (W x D x H) and weighs in at 8.8 kg. Taking up a prominent position on the front of the unit is an adjustable flap that can be set at an angle to suit the user. This flap containing the on/off button and a touch-sensitive 8.8cm colour LCD screen. The colour display provides feedback and status information while allowing the user to select and make adjustments to various features and operations. A selection of touch-sensitive buttons light up alongside each edge of the display when required.
To the left of this panel is a concealed compartment for inserting a memory card. The usual suspects of Compact Flash, Memory Stick, Microdrive, MagicGate and the SD family are supported when accessing images. There is also a USB port for attaching a flash drive or PictBridge connection.
Two-front mounted paper input trays are available. These trays allow you to load up with paper for either A4 or photo-size printing. You can then quickly switch between the two sizes for specific jobs. The A4 paper tray has a capacity of 100 sheets while the photo paper tray can hold 20 sheets. The paper output tray is located just above the paper input trays. Tucked away beneath these two paper trays is a drop-in adapter for when you want to print a label on appropriate optical media.
As mentioned the Photo XP-950 is an A3 printer. Rather than use the front paper input route for this size of paper you need to use a third paper input option. This is located at the rear of the unit which is the same approached as used by Brother with some of its printer models.
The Expression Photo XP-950 is a six-colour model. Each of the six ink cartridges, covering Black, Cyan, Light Cyan, Yellow, Magenta and Light Magenta, need to be inserted in a holder located inside the printer's body. You need to raise the scanner unit once you have selected the Replace Ink Cartridge option from the menu to access this compartment. By using separate cartridges for each colour, you do cut down on any wastage as you just need to replace each cartridge when and as the need arises. The Expression Photo XP-950 uses Epson's Claris Photo HD Ink to help deliver photos that have a long-lasting quality.
Having inserted the ink cartridges, you can move on to installing the supplied software. You are given a choice of First Time or Printer Already in Use. With the former you are led through step-by-step instructions that cover everything including unpacking the product. Along with the necessary drivers for the printer and scanner elements, Epson has bundled various utilities such as My Epson Portal, EpsonNet, PhotoPrint, Event Manager, Remote Print, Easy Photo Print and ArcSoft Scan-in Stitch allowing for both local and remote printing tasks. When setting up the review model a Firmware update was detected. This was successfully completely without any problems although it did add to the amount of time required to complete the setting up process.
When using the flatbed scanner, the results can be sent to a variety of locations including a computer, memory card or the Cloud. You can also send the results of a scan direct to the printer to produce a photocopy. An A4 full colour photocopy required 26 seconds for the scanning and printing to take place.
The print driver supplied by Epson offers Draft, Text, Text & Image, Photo and Best Photo modes. There is also an option to select either auto or manual Duplex printing. Whenever a print job is instigated then the paper output tray will automatically be opened if it is not already extended. Using my standard document, I achieved rates of 32, 22 and 16 pages per minute respectively with Draft, Text and Text & Image modes. A six-page 2900 word document was printed in 72 seconds on three sheets of A4 paper with the auto Duplex setting turned on.
When you insert a memory card or attach a flash stick device, the printer will automatically switch to photo printing mode. Available options can be selected and adjusted from the touch-sensitive display screen. Among the options available will be setting the number of copies to product, the paper size and quality plus the location to use for the paper source. If you have opted for A4 size then the printer will automatically target the paper tray holding this size of paper.
Running tests using images stored on a flash drive, I printed out a series of images using different sizes of paper. On average excellent borderless prints were produced in 31.5 seconds on 18 x 13cm photo paper. Switching to A4 size paper, again opting for borderless prints, excellent results were achieved in 65 seconds. Remote printing is possible using supplied software.
As mentioned earlier, Epson consider this All-in-One device to be best suited for use by photographers rather than general office or home use. The product is priced as such and will cost £349.99. The ink cartridge replacements are available in standard and high capacity versions. The standard cartridges are priced at £8.99 for each cartridge while the high capacity version will cost £13.99 each. Special six packs, containing one of each colour, are available at £49.99 for standard and £74.99 for the high capacity units. Epson has rated the yield as 240 pages for black and 360 pages for colour with standard cartridges and 500 pages for black and 740 pages for colour with the high capacity product.
http://www.epson.co.uk/viewcon/corporatesite/products/mainunits/overview/12446