Canon Pixma MX455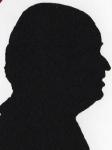 A four in one device is normally called multi-function, while a three in one device is often called an All In One, this is from the former category as not only does it scan, copy and print it also has a fax ability for those who still use it.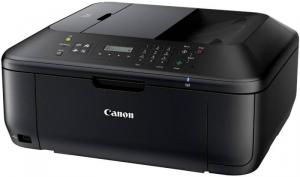 click image to enlarge
The Canon Pixma MX455 measures 46x37x21cm so it is a chunky unit and that is without the page feed being extended on the scanner. You also need to add another 13cm to the middle figure the depth to have the drop down output tray and the paper input trays extended.
Power and USB inputs are back left of the unit. You can probably do without the USB lead assuming you have a Wi-Fi connection but for some you may need a USB to complete the setup as sometimes it fails to find the Wi-Fi without one.
To the left of the paper trays is a USB port near the base of the unit.
The front of the lid slopes forward and this is where all the controls are. From the left the on/off button and the menu button, next a two by two arrangement that lets you choose which of the unit's facilities to be using. Next is a two line black on grey display with four well marked buttons in a line under it. As this is a fax unit you need a dial pad and this has three columns of four to perform that task and finally the copy buttons in colour and monochrome.
As a text printer it is not that fast even when you print in the fastest 'fast' mode, the other choices are standard and high. Printing the nonsensical 200 word document it comes in at 15PPM but the text is sharp and black and above all the sound of the printer is not deafening. Printing the more normal 1500 word document over four pages comes in at just 10PPM but my comments above still apply.
Printing a full colour A4 image of photo paper using Best (high) mode is just 132seconds, the image is crisp and clear and for a two cartridge (four ink) unit rather good, this task was completed using Canon's Image Garden which is the replacement software for Canon Photo Print. It takes the same time to print four near 15x10cm images on a single A4 sheet of photo paper, both tests were printed in borderless mode.
Copying of course does not involve the PC, an excellent colour copy takes 30 seconds and an equally good monochrome one takes 20 seconds.
Scanning used to only available to the PC but on most modern units with a USB port you can scan to a file either document or PDF to a USB stick. However being a traditionalist I quote only the 20 seconds it takes to scan to a PC. There is a 30 page ADF (Auto Document Feeder) but for books or just the odd page it may be easier to use the flatbed.
For those who still use Fax this has a 50 page memory for those times when you do not have paper loaded.
All the software is bundled together in one application which by default loads when the PC boots but it is possible to stop this happening should your PC not be that fast and then load it when needed.
When you use Wi-Fi the 'other half' can be placated by placing the unit behind a sofa or in a cupboard as even to my jaded eyes you cannot call it pretty.
I have mentioned using it with a PC but often today this will be a Smartphone, it supports Apple Air Print. You can also scan to Dropbox or Evernote Cloud services.
The Canon MX455 is available from the link below for £58.66 with free delivery.
http://www.amazon.co.uk/gp/product/B00BECLSTU?ie=UTF8&tag=gadge0a-21&linkCode=as2&camp=1634
http://www.canon.co.uk/For_Home/Product_Finder/Multifunctionals/Inkjet/PIXMA_MX455/