HP PhotoSmart7520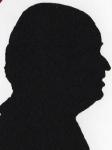 This is a multi-function unit which means it also has fax as well printing, scanning and copying, I actually recently found a business that still uses fax, my local Pharmacy as urgent prescriptions can be sent from doctors surgeries.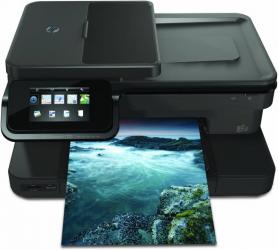 click image to enlarge
The HP PhotoSmart7520 measures 48x35x21cm, you will need a few more centimetres on the last figures to place items on the flatbed but not if you use the page feed. However anyone thinking of placing it on a shelf should make sure it's strong enough.
While this is capable of working on USB some of the features are only available via Wi-FI and this includes scanning to PC although you can scan to USB memory stick or SD card on the unit and then transfer the file to the PC.
I did the software installation while the unit was running through the first time setup and this took half of the software installation time. Total install from removing the numerous bits of tape and installing the five ink cartridges was 12 minutes and used 250MB of hard disc space. This did not include the fax install which is separate.
The large display is one the left of the front and fixed at 45degrees but the top of it can be moved forward so it becomes straight up if lighting conditions show this gives a better result. It is 16x8cm overall size and the TFT is 9.5.5cm so easy to see everything and even carry out basic editing on images and check alignment of items before scanning. Outside the viewable TFT there are back and Home touch buttons and on the right a Helf button.
Below this is an open area where printed or copied items are delivered onto a shelf. Then the reasonable size paper tray, above this a separate tray that can be lifted out and this takes smaller photo paper sizes, the SD card port and USB stick insertion point to the trays left. The only 'hard' button on the unit is the on/off which is located towards the right front edge just below the flat bed.
Both the mains lead and USB (if you use it) enter back left of the unit.
The TFT 'Home' screen shows a line of four icons, next a line of five larger picture icons and finally a line of four icons, Photo, Copy, Scan and Fax.
Printing the nonsensical 200 word document in draft mode came in at 22PPM. The more normal 1500 word document (spread over four pages) was slightly slower at 16PPM but both were still crisp and black. Unlike some other units the pages were not snatched and so the chance of paper jams is lessened, in fact I had none throughout my test period despite using a mix of papers and weights as I always do for testing.
Printing an A4 photo on photo paper I always take the timing in best mode and here it was 150seconds. As the unit has a dedicated photo tray which can print sizes up to 18x13cm, I also timed a 15x10cm image at 45seconds.
Copying of course works even the PC is off. The options from the large touch screen are numerous, Quality, Doubled Sided, Paper Size, Paper Type as well as extra Enhancements. A mono A4 page takes 12 seconds and the same in colour just over 20 seconds. You can copy up to 99 in one operation.
Scanning using Wi-Fi can be done on the machine of on the PC, using the PC and a USB connection can only be done on the machine. Using the Wi-FI lets you save in Jpeg, PDF or email, using USB you only have Jpeg and PDF and they can be saved to SD Card or USB stick, the scan itself takes only ten seconds and if the PC is connected it appears as a drive anyway.
Some of the extra things that can be done using Wi-Fi and the Internet are Quick Forms, Calendars, HP Crafts and Dreamworks.
As stated it works perfectly well to send or receive faxes if required. This is a five ink offering and best colour mode on photo paper is rather good.
The HP PhotoSmart 7520 is available from the link below for £124.95 with free delivery.
http://www.amazon.co.uk/gp/product/B0099MS8Q8?ie=UTF8&tag=gadge0a-21&linkCode=as2&camp=1634