Scanning Brought To Book

Although an ordinary flat-bed scanner handles individual documents and photos without any difficulty, there are problems when one needs to scan pages in a book or any other bound material. This is because the spine prevents the pages being held flat on the scanner's platen and so you get a very distorted portion of the image. With its OpticBook 3800, Plustek has produced an effective solution to this problem in a machine which does not take up too much desk space and is ideal for the serious student, library or SoHo worker.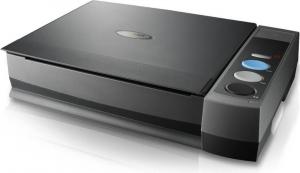 click image to enlarge
It is black and silver in colour and is roughly 11 x 18 x 4inches high. With its large Cancel, Colour, Grayscale and B&W buttons it has a business-like appearance. Unlike normal flat-bed scanners, where the edge of the glass platen is an inch or more from the edge of the machine, this is very much reduced in the OptiBook where the platen, together with the scanner head, extends to within about 0.25 inch of the edge of the machine. Hence, with the spine aligned with the edge of the machine, and the page to be scanned on the platen, the remaining portion of the book just hangs over the side. This ensures a page is held flat and so an undistorted scan results with nothing missing as the central "gutter" between pages will be larger than 0.25 inch. This is something that cannot be done with the average flat-bed scanner.
As well as image processing and OCR software being provided, there is Book Pavilion. Here, having adjusted the scan area to that of the book pages to ensure that the image is cropped to the correct size other parameters such as colour, gray scale or B&W are set up. One special feature of Book Pavilion enables the image to be rotated through 180 degrees every other page so as to ensure that all pages come out the correct way up. With little practice it becomes a simple matter to scan the pages of a book and, for example, output to pdf or send to OCR. In this latter context, the ABBYY "Lite" software is satisfactory for simple tasks but would be better replaced by a more powerful version if the user will need to OCR complex page layouts for a major part of their workload.
Having a hardware resolution of 1,200 x 2,400 dpi and a 7 second scan over an A4 page at 300 dpi, the OpticBook 3800 offers the performance and speed that will meet the needs of the majority of users while the one-touch buttons initiate a pre-set "batch production" function such for copying or producing a PDF for emailing so that, overall, it is an effective and easy to use scanner for general usage with that virtually unique advantage of being able to deal effectively with books. While, at about £180, it is noticeably dearer than many an ordinary flat-bed scanner, it is a price worth paying where the ability to scan books is important.