Epson XP-102 All In One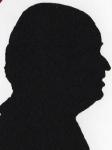 Review controls
For those who print a little, scan a little and copy not a lot may well fancy a small in size unit that does all those things. Those who have a small place to print from this is certainly a unit that can tick all the requirements.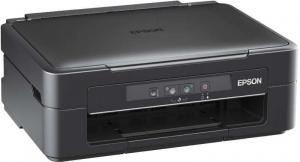 click image to enlarge
The Epson "Expression"e; XP-102 All In One is 38x30x14cm but add another 20cm to the last figure to put a stack of A4 sheets in the sit up sheet feed in the rear. 10cm on the 14cm height should be plenty if you are scanning something and wish to locate the unit on a shelf.
USB enters back left while the power enters back centre. There are four touch buttons on the front face of the unit just above where the finished page exits face up. The buttons are on/off, mono copy, colour copy and problem.
This is a four ink offering and changing or inserting cartridges is straightforward an onscreen window that shows print progress also shows the amount of ink left in each cartridge, so no excuses for running out of ink.
As the paper is fed face forward at the top of the rear and exits having only taken an 'L' shaped journey jams are less likely.
Printing in draft mode produces a grey text that would probably only be used for checking, it is quite fast at just over 20PPM. The more sensible 1500 word document spread over four pages came in at 15PPM, both were reasonably quiet and unlike some other units in draft mode the pages were not snatched which also helps to avoid paper jams. Printing in the next quality up 'text' produced a nice sharp black result at around 12PPM.
Printing on photo paper is possible but not exactly made easy. To begin with rather than the sliders coming together in the centre there is only one slider on the left side so any smaller papers print at the right side and if you want borderless you have to jump through several hoops and then be very patient. For some reason it can only print 15x10cm borderless and believe or not – I certainly didn't – so I repeated it several times it takes 6 minutes and 20 seconds. An A4 image – with borders – using Best Photo takes 3 minutes. So how does something four times larger take less than half the time? If nothing else this can certainly become a talking point.
Scanning to the PC works correctly, the simple interface is easy to follow and has four modes Full Auto (default) produces an excellent reproduction of what is on the flatbed and places the file in a folder all happens quickly after you press scan. The other modes where you have a lot more control are Home, Office and Professional.
Copying was not rapid; this is a simple like for like copy conducted from the unit. Place the original face down on the flatbed, make sure you have paper in the input tray (face forward) and then press the mono button on the front of the unit around 30 seconds later you have a good copy. It's the same process for colour but in the last stage press the green coloured button on the face and one minute later you have a good colour copy.
This is a simple quite 'dumb' unit so no options on it, this means no enlargement or reduction when copying, no ability to print direct from a memory stick or card.
Their website describes it as a 'Small In One' and I have no argument with that. This unit is for someone who needs to scan a bit copy a little and print, the draft mode is fast but the output is very grey. Use the next up setting of Text this is still faster than some entry level products by other manufacturers but a lot quieter in operation.
The Epson XP-102 is available from the link below for £37.99 with free delivery.
http://www.amazon.co.uk/gp/product/B0080OUM2E?ie=UTF8&tag=gadge0a-21&linkCode=as2&camp=1634
http://www.epson.co.uk/gb/en/viewcon/corporatesite/products/mainunits/overview/11464